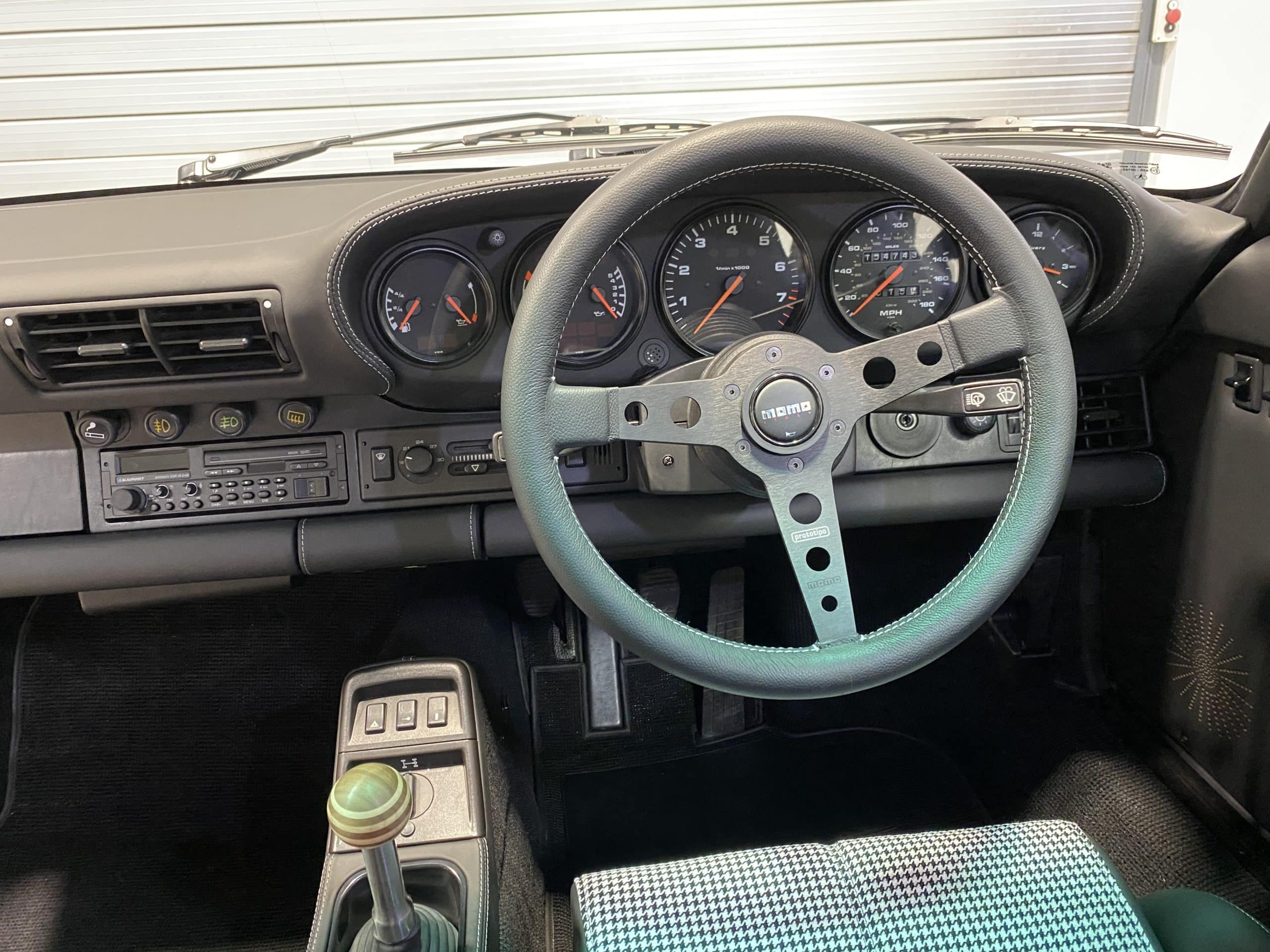 964 Carrera 4 Full Restoration & Re-trim
BUILD
SUMMARY
A lot went into this build, but here are some of the key features:
Extensive, full bare-metal restoration with genuine Porsche replacement panels where necessary
Lumetechnik headlights
KW Variant 1 suspension
Full interior re-trim with Pole Position seats
Rear wiper, side repeater & headlight washer delete
Modern Blaupunkt radio
Laser cut speak grills for door cards
Carbone gear knob & shaft
Rear seat modification with smoothed rear panel
Engine dressing
MOMO Prototipo steering wheel
This 964 Carrera 4 Coupe has been known to us since 2012. The owner has been a serial Porsche buyer for many years, having previously had all water-cooled generations. He purchased two 964's and brought them both into us for inspection. After a year he kept his favourite and we sold the other one for him.
Over the years we have undertaken a variety of routine maintenance, servicing and upgrades. This work includes fitment of a KW Variant 1 suspension and geometry set up, brake overhaul and Cup 1 wheels. This was the 964 featured in our Lumetechnik video when the triple LED headlamps were first launched. The owner has used this car regularly and we talked on several occasions about the inevitable full restoration. During this time period he bought and sold several other modern supercars, however the 964 remained. It must have been talking to him!
Rewind to December 2018 and the owner concluded it was time to lavish the love the car craved for and make it "his" 964. The car underwent a full body restoration and bare metal repaint including, but not limited to, new front wings, scuttle panel, quarter panels, sills and various fabrications to eradicate any corrosion. A major service along with all advisory items was completed and whilst the car was serviced, the engine was removed and thoroughly checked to ascertain its health. This health check showed the engine to be in great order, so we attended to a few oil leaks and carried out a full cosmetic overhaul to dress the engine.
So the final piece of the puzzle was a bespoke retrim of the car to our owners exacting standards. No pressure given his line of work dealing with the most exquisite premium furniture and interiors! The final result is both brilliantly executed, and finished with a factory/bespoke twist. There are some subtle tweaks and details that only the most discerning eye may spot.
Please get in touch if you would like to discuss how we can help you build your perfect project 911.
SPEAK WITH OUR PORSCHE RESTORATION TEAM TODAY
To discuss your Porsche restoration or special project, give Ollie a call on +44 (0)1296 663 824 or send us an enquiry online