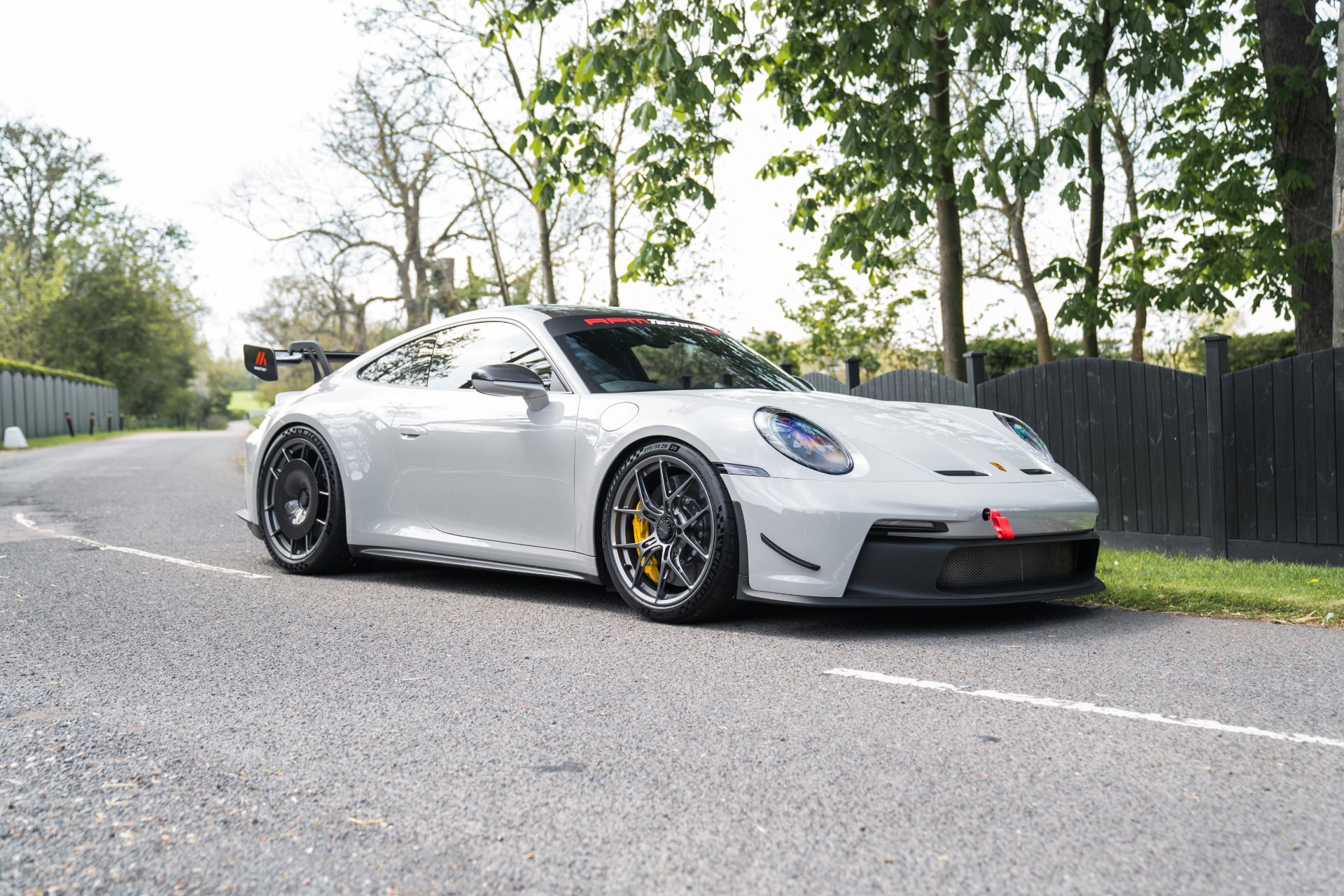 FULL MANTHEY
CONVERSION
This 992 GT3 MR was commissioned by one of our long-standing clients who cut his teeth on two-wheeled track days! As time went on, he decided that he had pushed it enough on bikes and could still walk away, so the time was right for the ultimate in four wheels for the track. In fact, after owning a vast selection of Porsches, getting a 992 GT3 was the answer for all track needs and road trip duties. He initially owned a Shark Blue example that remained standard, for a mere month an Italian piece of exotica turned his head before he realised it was not the correct tool for the task and he returned to the Porsche fold purchasing this stunner.
He knew as soon as he purchased the GT3 that he wanted the MR upgrades, but even so, he completed a handful of track days in standard form to understand where the differences would come from. Upon completing the car in the final MR spec, obviously, it is seriously capable of handling itself on a circuit but to the owner's biggest surprise this hasn't affected the car's road manners. Some road tests led to him believe that it would be very hard work on the road due to the upgraded suspension. However, if anything the opposite is true, due to the sophisticated valving within the MR coilovers, they not only allow a stiffer base for the chassis to work on but also allow the car to ride perfectly well on our average back road. Clearly, this isn't an S-Class and a degree of realism is required, but try it and you will see!
So expect this GT3 to come past you on both Eau Rouge as well as Route Napolean!
Interested in Manthey upgrades for your GT Porsche?
SPEAK WITH OUR MANTHEY EXPERTS TODAY
To discuss your MR project, give Ollie a call on +44 (0)1296 663 824 or send us an enquiry online