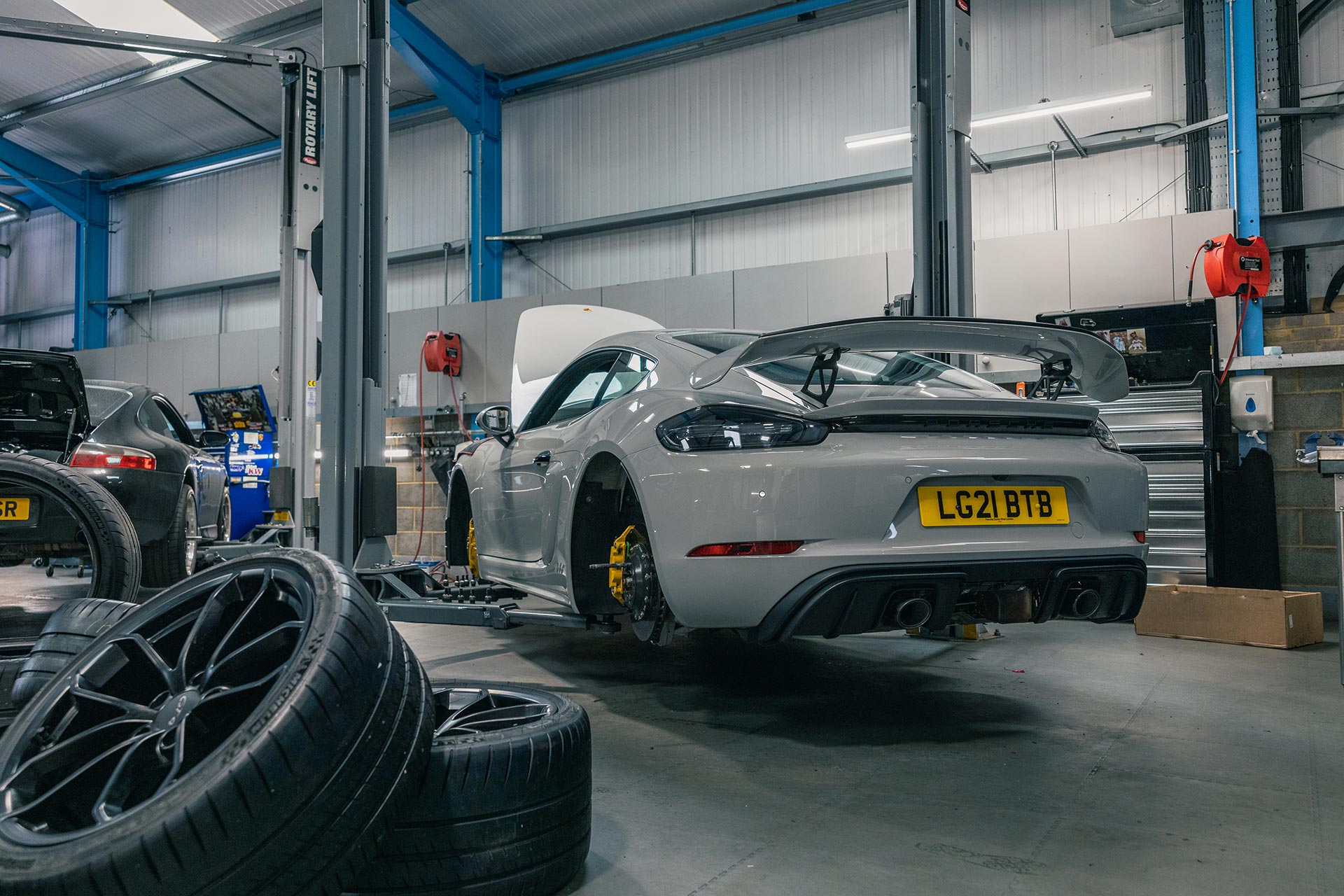 FULL MANTHEY
CONVERSION
The owner of this 718 GT4 had already put 4,000 miles on his car on both road and track, so had a really good understanding of how the car performed in standard form. With encouragement from his brother (already a Manthey upgrades convert), he opted to bring the car in for a MR conversion. A lot of the upgrades to the 718 are 'under the skin', so with the owner wanting to keep the GT4 in a more subtle appearance, this worked perfectly. The car was delivered to our unit in Tring, Hertfordshire and was the second GT4 MR that we have built (and at the time of writing is the second MR conversion in the UK). The engineers at our workshop who completed the build, listened to what the owner was looking to do with the car – a typical mix of fast road and occasional track days, and as such set the car up accordingly. The GT4 now offers an even higher level of body control at the limit, giving the driver more precise feedback ensuring that the car is more predictable whilst pushing towards the outer end of its operating window.
Once the car was completed, the owner collected and started putting the miles onto it. The feedback he provided was that he could instantly feel the difference on the way that the car turned in and indeed held its line through a corner. One surprise to him was that, whilst the GT4 was now more accurate to drive, due to the way that its suspension was set up it also massively enhanced its road capabilities too. Needless to say, he is also now a Manthey convert too!
View the full specification of the GT4 MR.
Interested in Manthey-Racing upgrades for your GT Porsche?
SPEAK WITH OUR MANTHEY-RACING EXPERTS TODAY
To discuss your MR project, give Ollie a call on +44 (0)1296 663 824 or send us an enquiry online