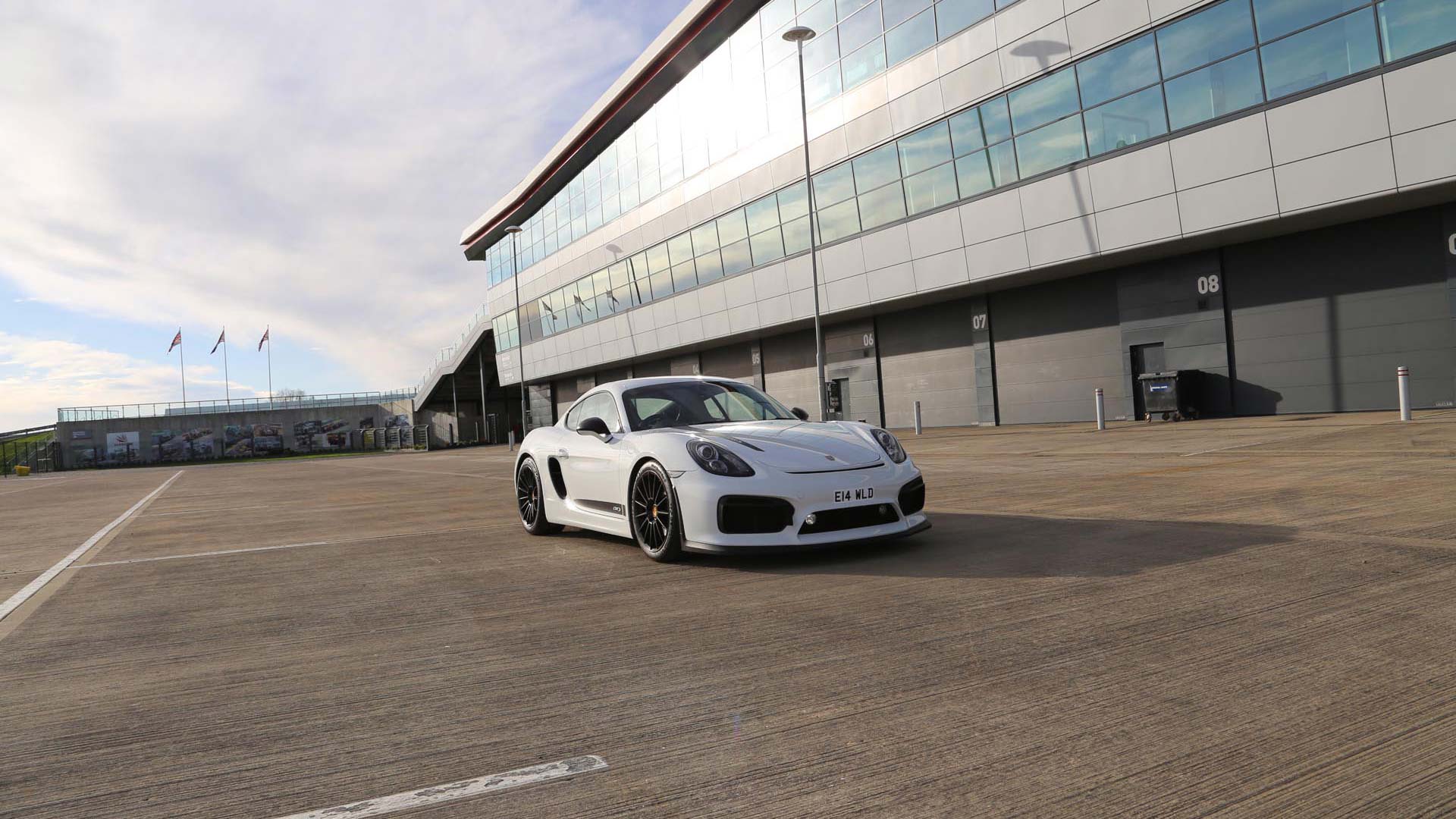 Cayman 981 CSR. The Second Chapter
The Cayman CSR. .. I'd taken the plunge back in Sep 16 to go with a Cayman S and the RPM Technik CSR programme to meet my desire for a track machine… as I walked past GT3s and the like… I admit my eyes wandered.
Before I turned a wheel the Cayman had its first 'operation' with Ohlin shocks, new anti-roll bar, adjusted ride height, Michelin Cup 2 tyres and CSR brake lines & pads. First impressions were positive, on the road though it did feel just a little 'Cayman' i.e. long geared and underpowered. Ollie kept me hooked though with plans for how we would change the beast, though it all felt a long way away when talking concepts and breaking new ground… all "one step at a time".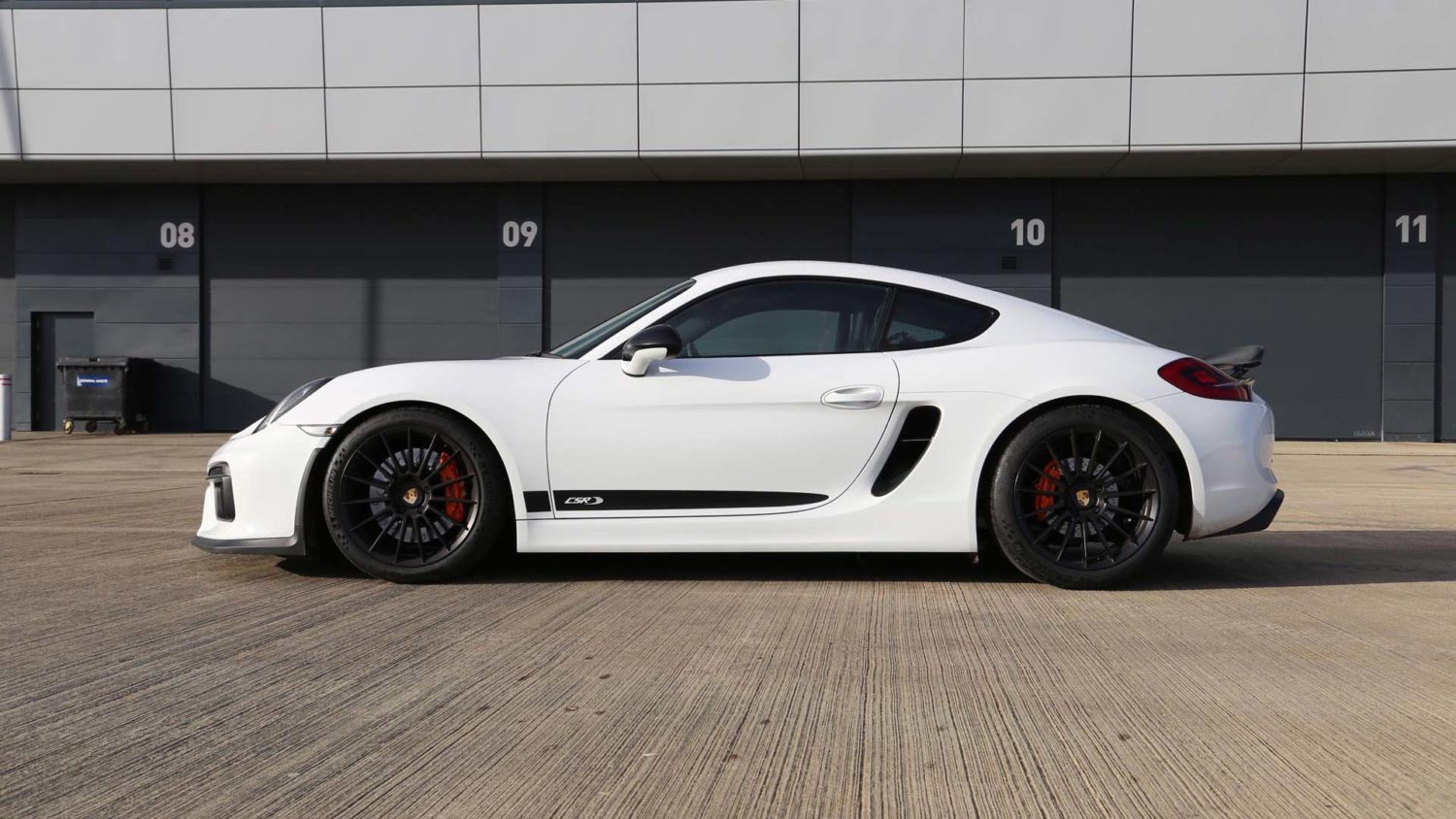 I took it on a couple of track days in Autumn 2016 and I was hooked by the handling and set-up, great balance of the mid-engine and fantastic agility being around 150kg lighter than a standard 911. I'll admit though that the long gears and lack of 'oomph' did feel a little frustrating as I sat on long straights… "Need more power Scotty…"
Roll forward 12 months and after a lot of hard work from RPM Technik with Ollie's 'one step at a time' mantra burned into my brain, my feelings are 100% positive with a car that is very unique, ultra-responsive, close to 300bhp/tonne (remember reducing weight works in braking, cornering and accelerating) and out brakes anything short of a race car…
Yet the first step wasn't encouraging. Worst of all I had to say goodbye to the car as the gearbox was heading to Australia for a new crown & pinion to be measured and engineered. Shipping time would mean I would say goodbye in November and not see the car again until April – I admit frequent pining, longing to see the results & nervous of what to expect. The hammer blow came when Ollie told me that the company had let us down and would not do the work. Huge credit to Ollie and RPM Technik as a new source was found, heaven and earth was moved and within 4 weeks I was sitting at Donnington ready to take the car onto track. Why start small ? Go for a RMA day with more race cars than track cars and a briefing that allowed overtakes on either side, few limits other than late corner diving and knowledge that Carrera cup cars and even a LMP3 car would be flashing past on a frequent basis. As well as the new gearing my focus on reducing weight had started with a Lithium race battery (saves an incredible 15kg) and a lightweight flywheel and clutchplate fitted. With V-Box data tracking on board I knew the real story could be analysed lap by lap.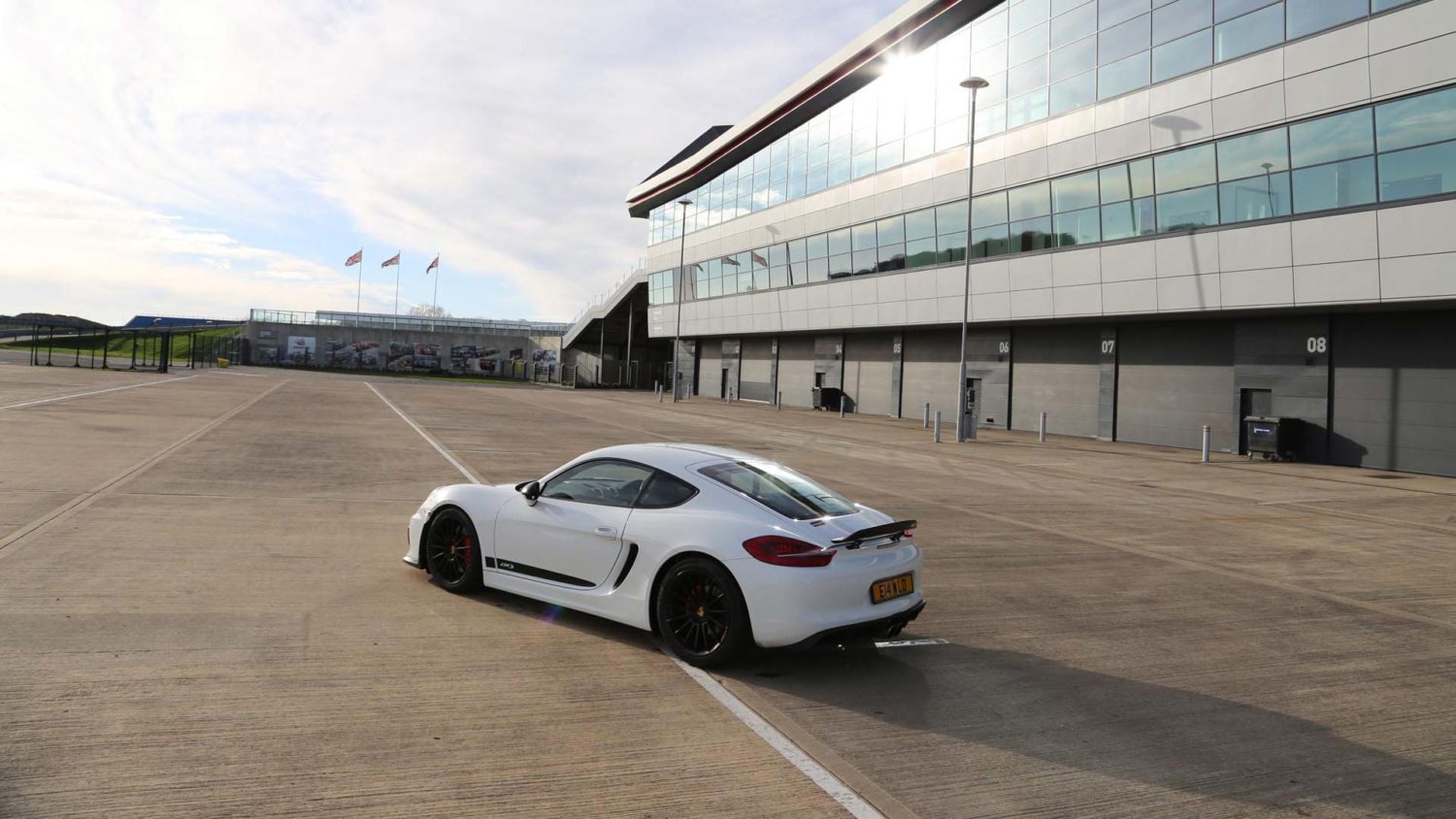 The changes were instantly noticeable… ultra-responsive to the slightest touch of the accelerator and the gearing was now much shorter with an almost PDK performance with instant torque pushing the car forward through all the gears. I have a great memory of Caterham's on slicks expecting to pass out of corners but making no ground… promising and I loved it!
Much more still to do and I was already aware that brakes were feeling a little lacking… (though for context you will need to talk to Ollie about my expectations of brakes and I was now cracking front brake discs on each track day!)
Another critical element I 'invested' in was me as to get the most from the Cayman CSR project I knew I would quickly become the weakest link. I've worked with a great race instructor on each track day to edge my performance up step at a time. Having a professional next to you, pushing you to the next level is probably the hardest part of the whole process but so worthwhile, though they do add 90kg deadweight to the car each time…
More track time followed (a good track day for me means plenty of laps and typically 250 miles covered) and more improvements came with new headers along with lightweight HRE wheels, GT4 front spoiler, rear diffuser, CSR ECU upgrade, CSR spec limited slip differential and even an engineered accelerator pedal to help get better heel and toe shifts. I could really feel the drop in unsprung weight, somehow more agile and light on its toes the car just felt more and more flexible and able to change direction and angle in an instant.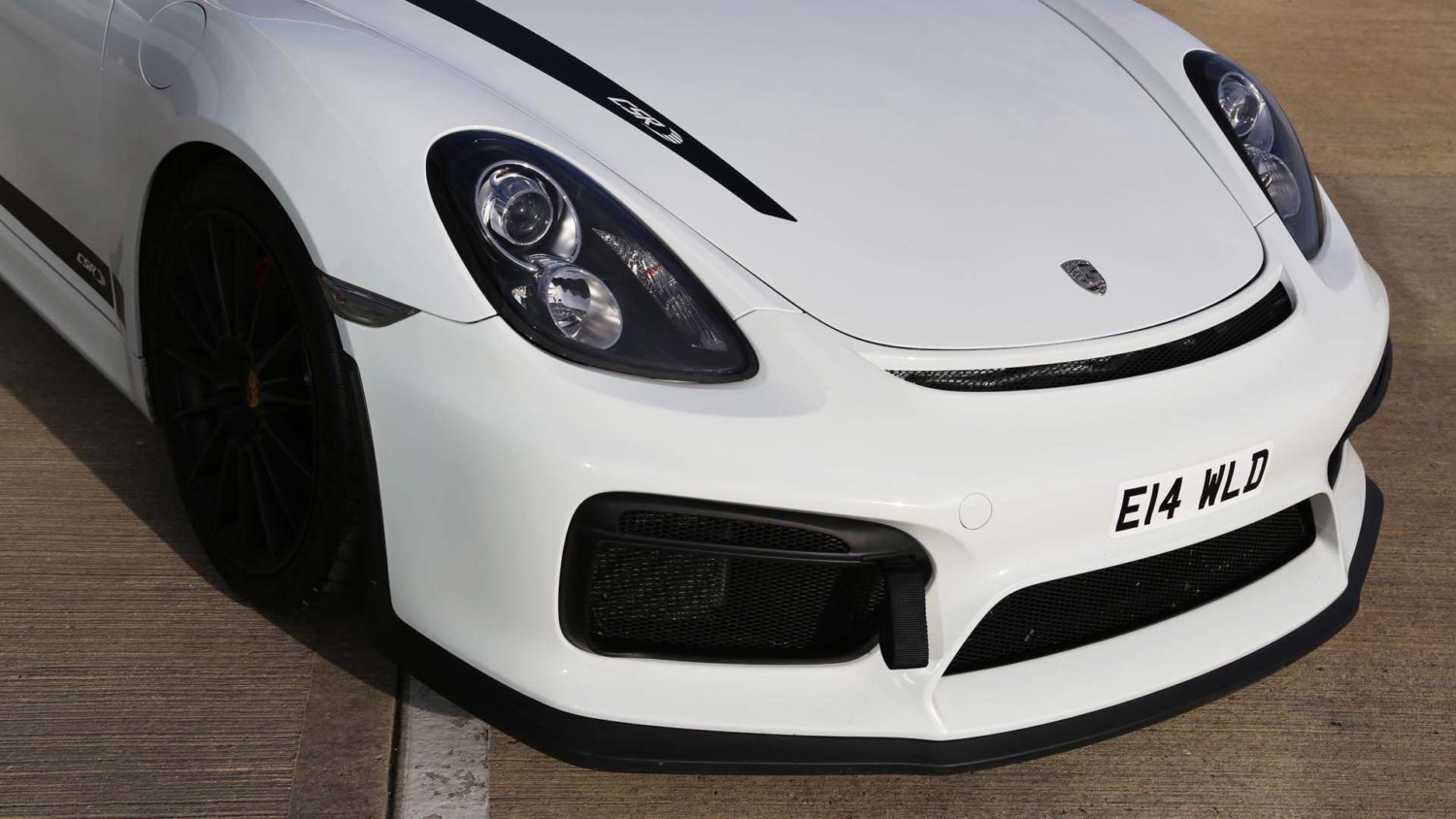 As the track days passed the combined changes were incredible and it I began to notice that cars were much appearing more often in front of me than in my mirror and the scalps were getting better and better – Ferrari F430, 911 GT3 997, Lotus Elise on slicks, Caterhams. I always saw the Cayman GT4 as the yardstick to at least match. Finally at Silverstone I reeled one in over a couple of laps and for a short time I was in my own dream world during the last few laps of the British GP… Back to reality though and the increased performance was not only meaning that RPM Technik had frequent work to maintain the car and the Michelin share price was rising daily, but the brakes were now overheating on a regular basis and I even experienced the joy of 'pedal fatigue' heading into the sharp first corner at Brands (not a pleasant moment)…
Options were endlessly discussed… a ceramic company was approached but Cayman's weren't a priority, we looked at Cup car brakes but weight would go back on and I was now obsessed that weight had to keep going down, especially unsprung !
Cosmetic tweaks, a new rear spoiler and subtle changes were really making the car look like a real track machine while still looking reserved on the motorway (and drawing many confused glances from Porsche twitchers trying to determine the model). RPM Technik have a real knack of making these changes just work and arguably better than Porsche themselves.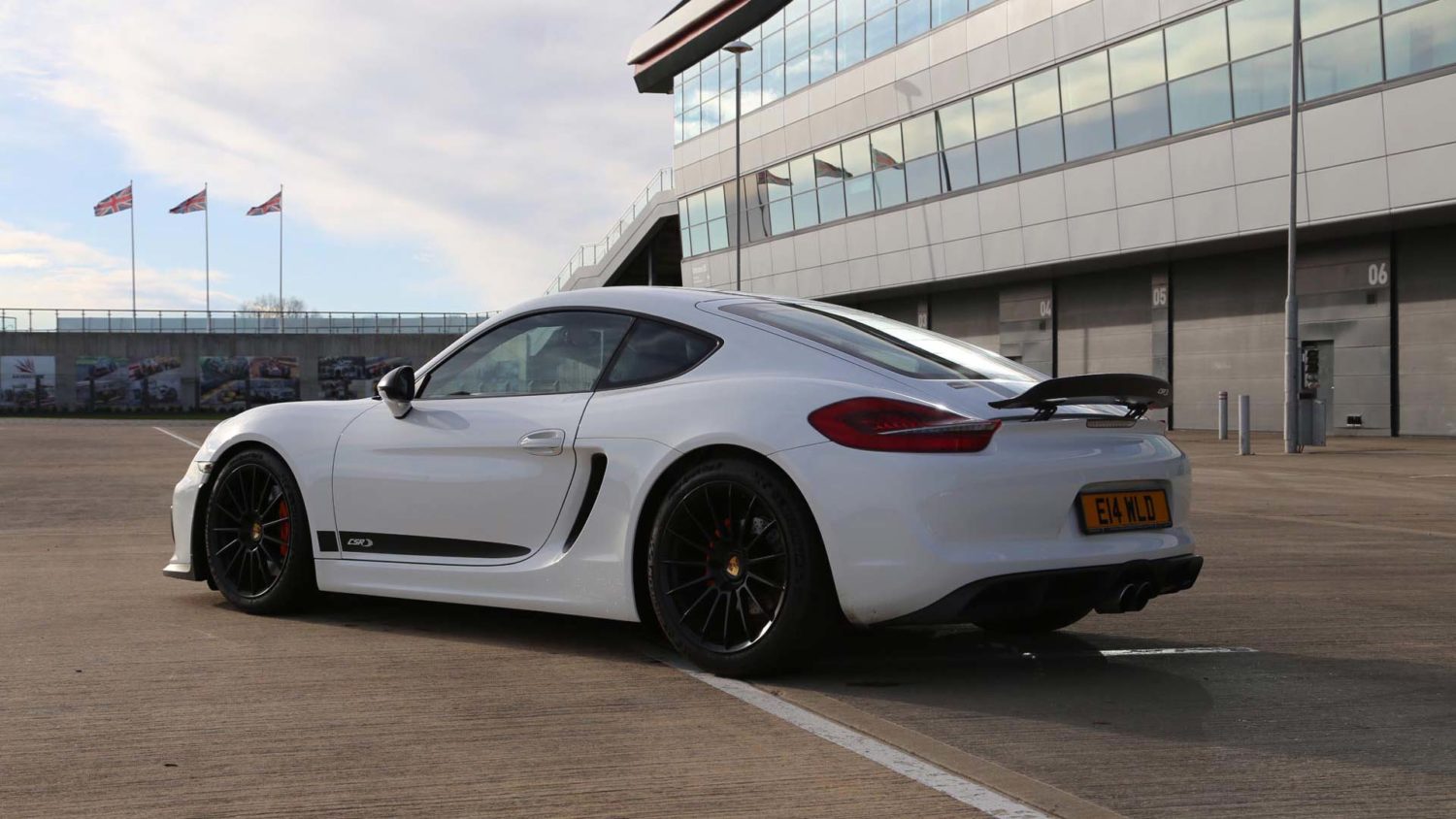 More track time at Snetterton, Donnington, Silverstone, Bedford and Brands was cementing my belief in my decision with the car now feeling seriously fast, agile and often now driving at or over grip limits that I know would be a real challenge in a 911 (ask a professional race driver what a 911 is like at grip limit…) but the final two changes were the best and most surprising.
First was a 6 point harnesess… again more issues were revealed in how to secure it to the car but I knew that Ollie and his team would find a way and their ingenuity was utterly amazing. My first outing with the harnesses showed that they are not just for safety. The feeling that you have is being part of the car, your body can relax rather than resist gravity through corners and you genuinely feel and sense more through the car.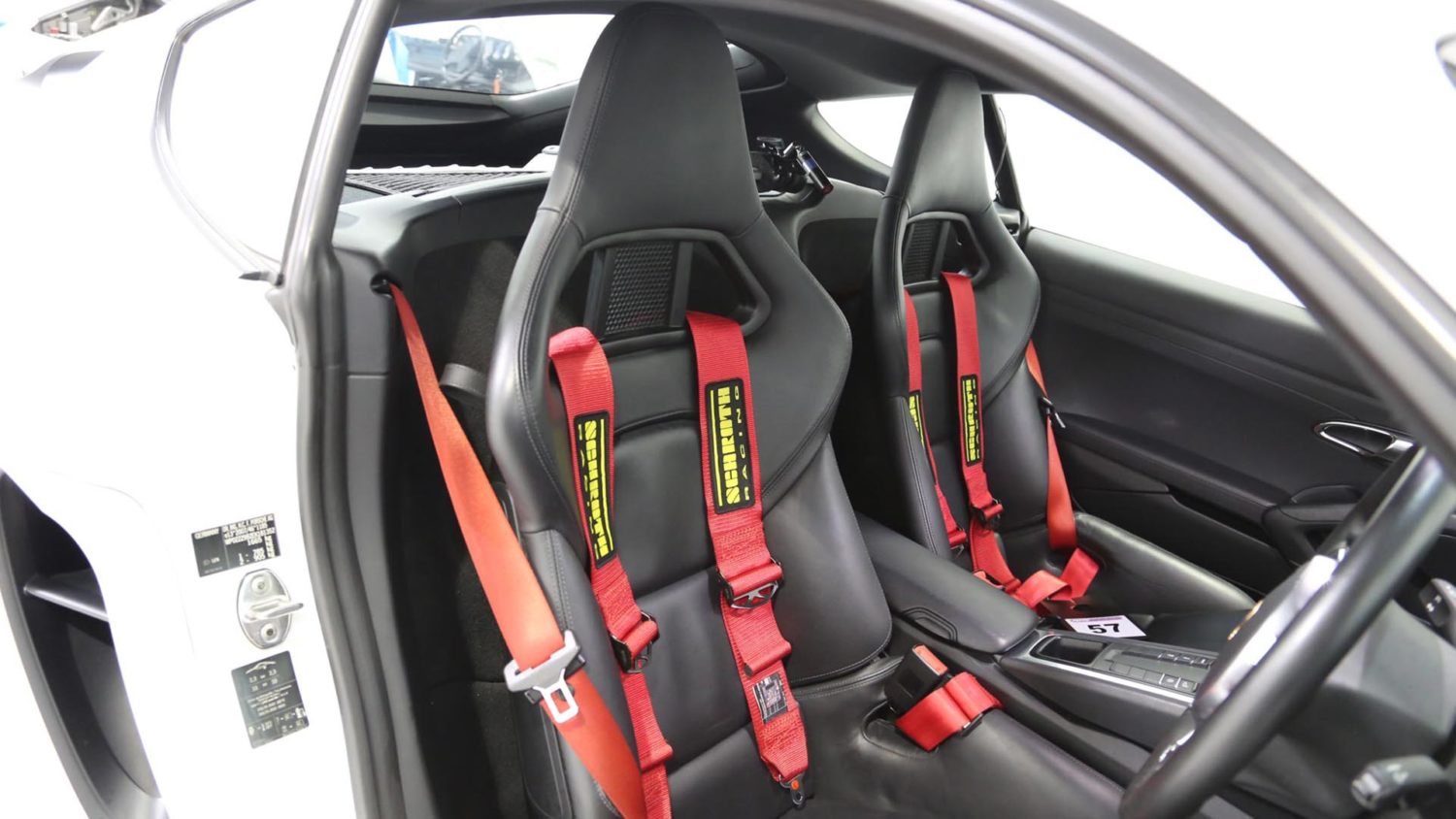 Finally we had a solution for the brakes… CSR 6 pots (fully floating front discs as per cup car) with the great advantage of less weight, discs that would not crack and better heat dissipation. A few customisations were needed and finally they were ready. What a difference! Not just in raw stopping power but ability to pound round demanding tracks for 30-40 minutes and they are still happy for more. My last tests were doing chicane entry from 160mph to 50mph again and again… the tyres were starting to overheat but the brakes were still as good as the first lap!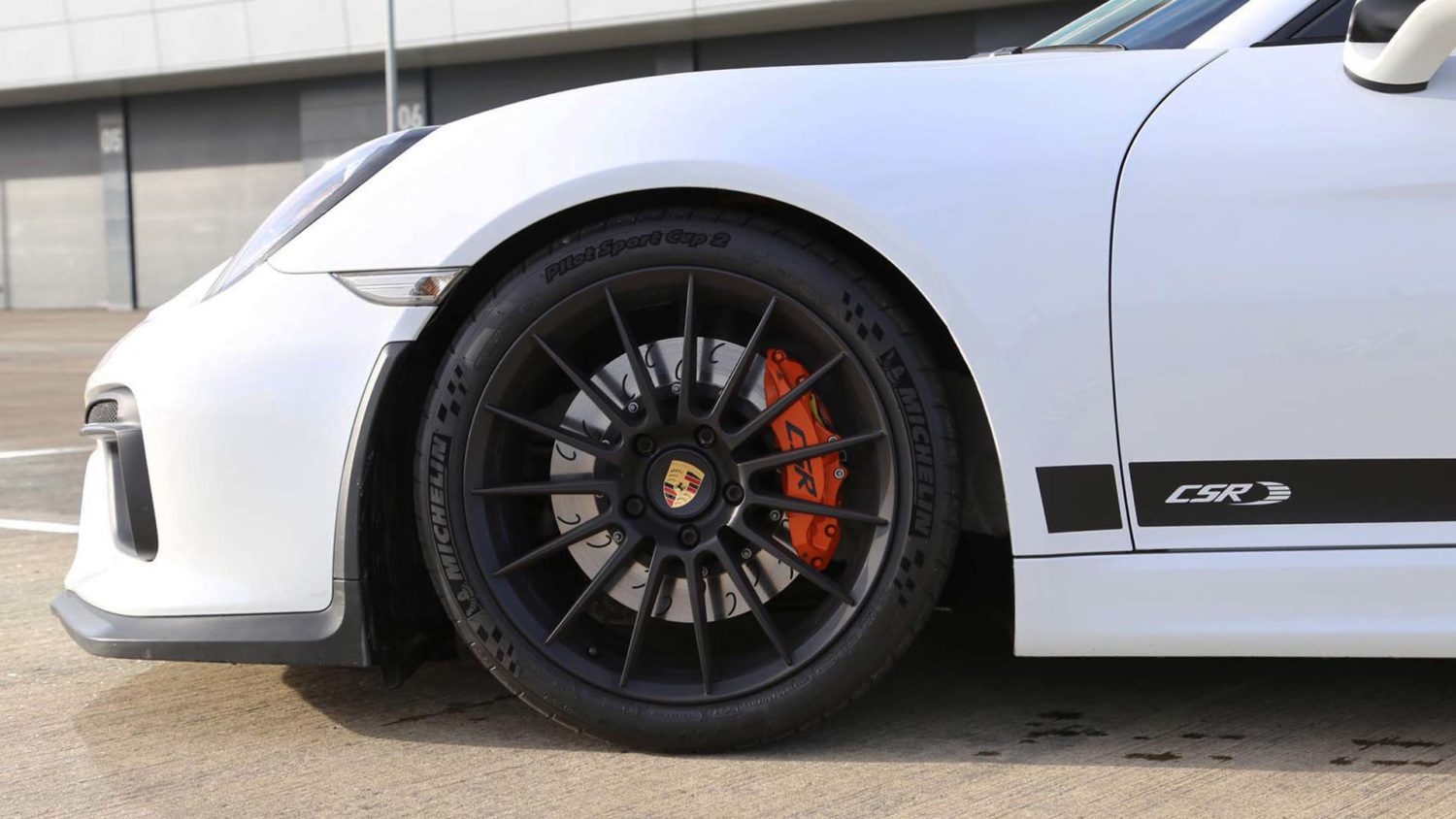 OK I admit this is now a very track focused car, though I can still drive it to any circuit and drive. The sensations when driving are pure and instant, whether accelerating or braking. The car is so well balanced and the CSR LSD is so communicative and even beyond grip limit the car remains controllable. The sensation of driving a light and fast car is so different to many of the turbo, heavyweight monsters available today and I think RPM Technik have truly created a pure driving car that can take you to the very limits and slightly beyond. The ultimate accolade was when I saw a drop in my Silverstone lap time of 4 seconds in 2017 and my track instructor saying he would choose the car over the GT4 every day of the week… it was almost the GT4 RS!
I don't think the project is finished as we're looking for more weight savings and maybe more power. Best of all it has all been achieved for less than the prices you see for a stock GT4 with the added benefit of working the guys at RPM Technik who give such a balanced insight into what will and won't work that you would never find at a standard Porsche dealer.
I suspect the story isn't over yet but what a journey and CSR is now in my blood!
Kindly written by Chris Wildsmith
SPEAK WITH OUR SALES TEAM TODAY
If you're interested in purchasing a Cayman 981 CSR, please contact our sales team on +44 (0)1296 663 824 or send us an enquiry online.