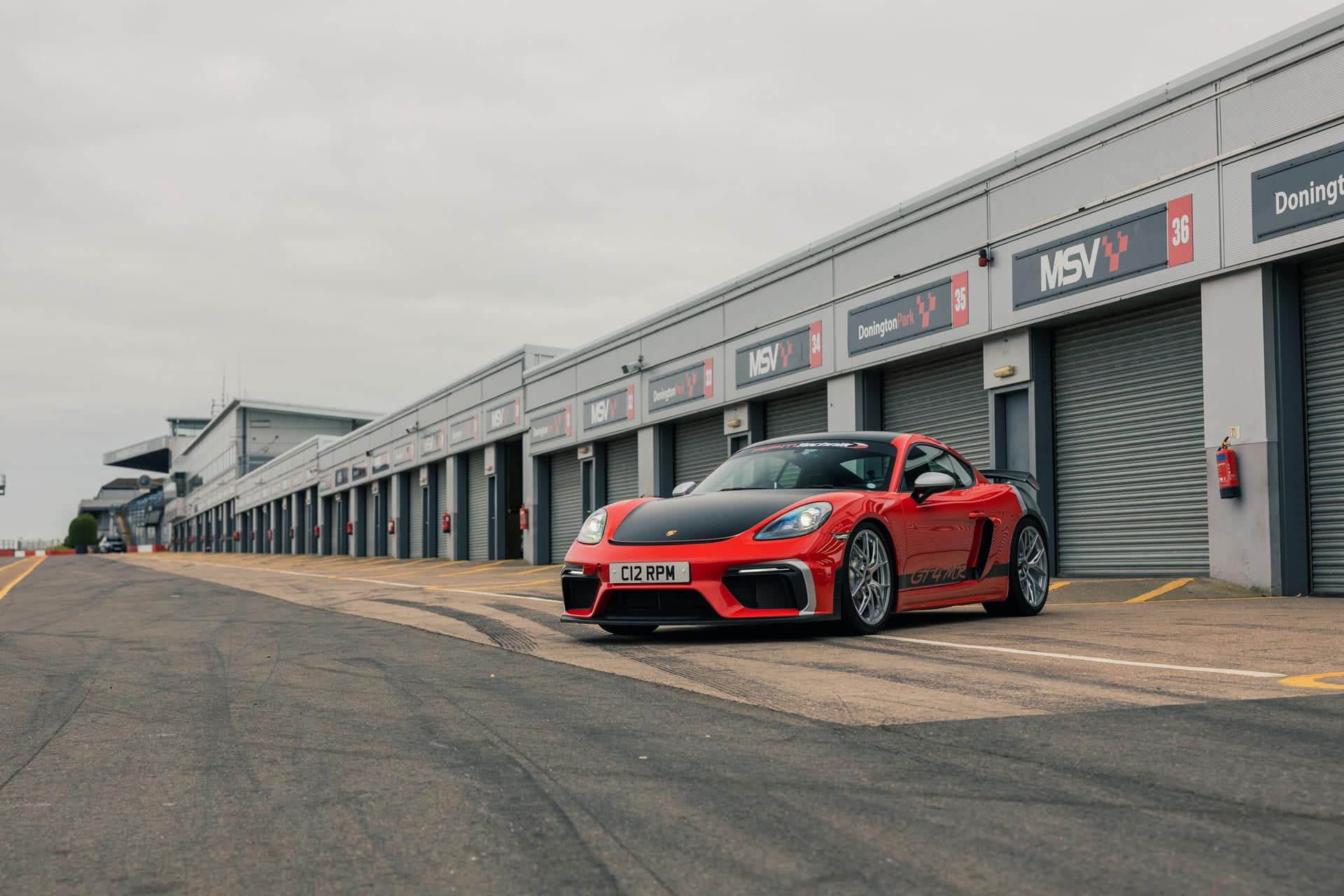 Porsche Cayman
GT4 Upgrades
We have long been big fans of the GT4 platform, so have put our money where our mouth is and have created our very own 718 GT4 MR to showcase the various GT4 upgrades available to you. From suspension and chassis upgrades through to exhaust and low ratio transmission GT4 upgrades, unleash the full potential of your GT4 today. We have collated a selection of these GT4 upgrades, which you will find detailed below.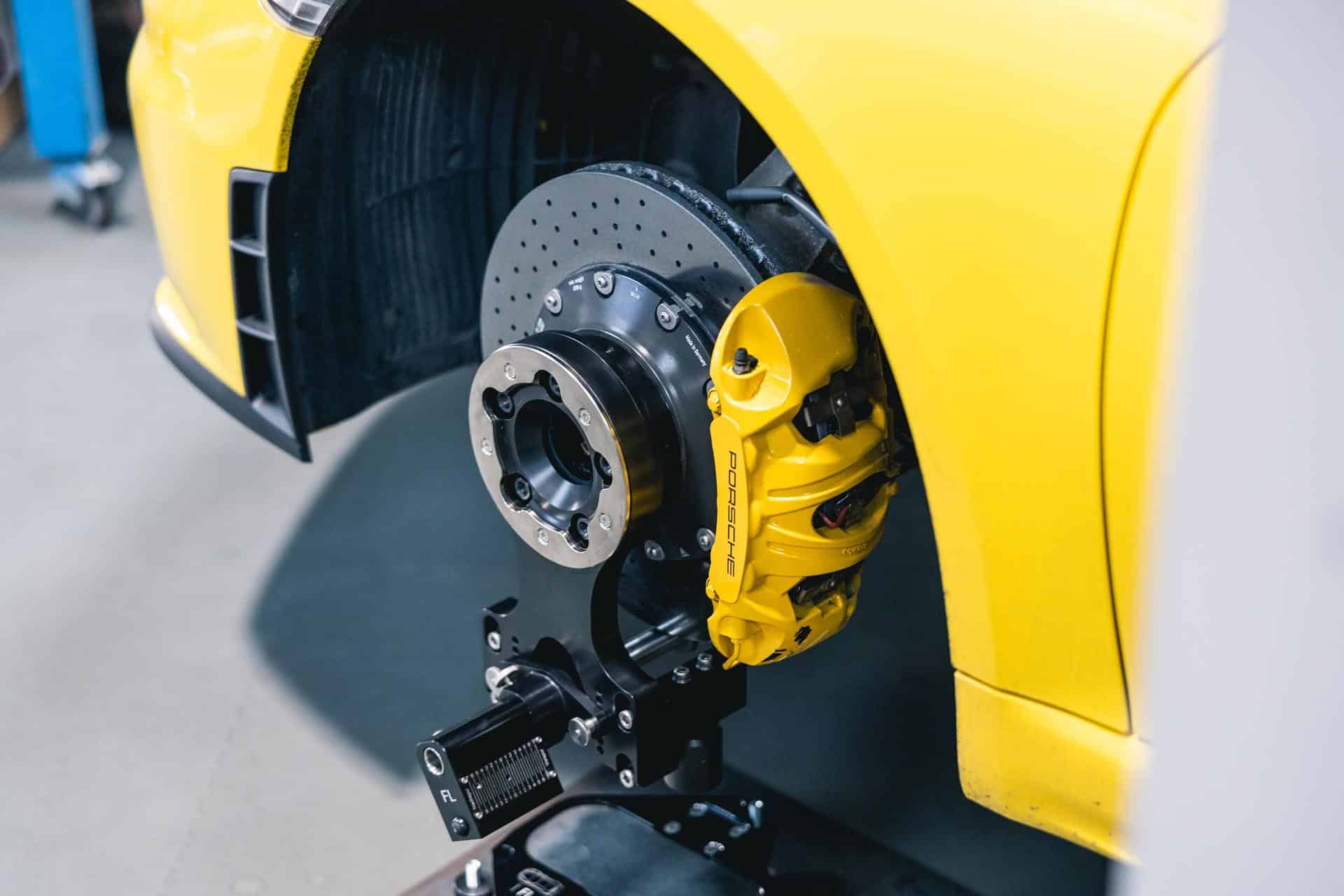 CHASSIS OPTIMISATION
The suspension on your GT4 is delivered pre-set by the factory at a setting that is safe and predictable for all drivers. The GT4 suspension can then be finely tuned to suit your application via the adjustment of the suspension geometry (camber/toe) along with ride heights, corner weighting (setting it up to have even weight distribution allowing for the driver's weight) and anti-roll bar settings – all without changing any hardware. Our Manthey Racing geometry equipment is incredibly accurate as it mounts directly to the wheel hub.
Prices from £648 inc VAT
---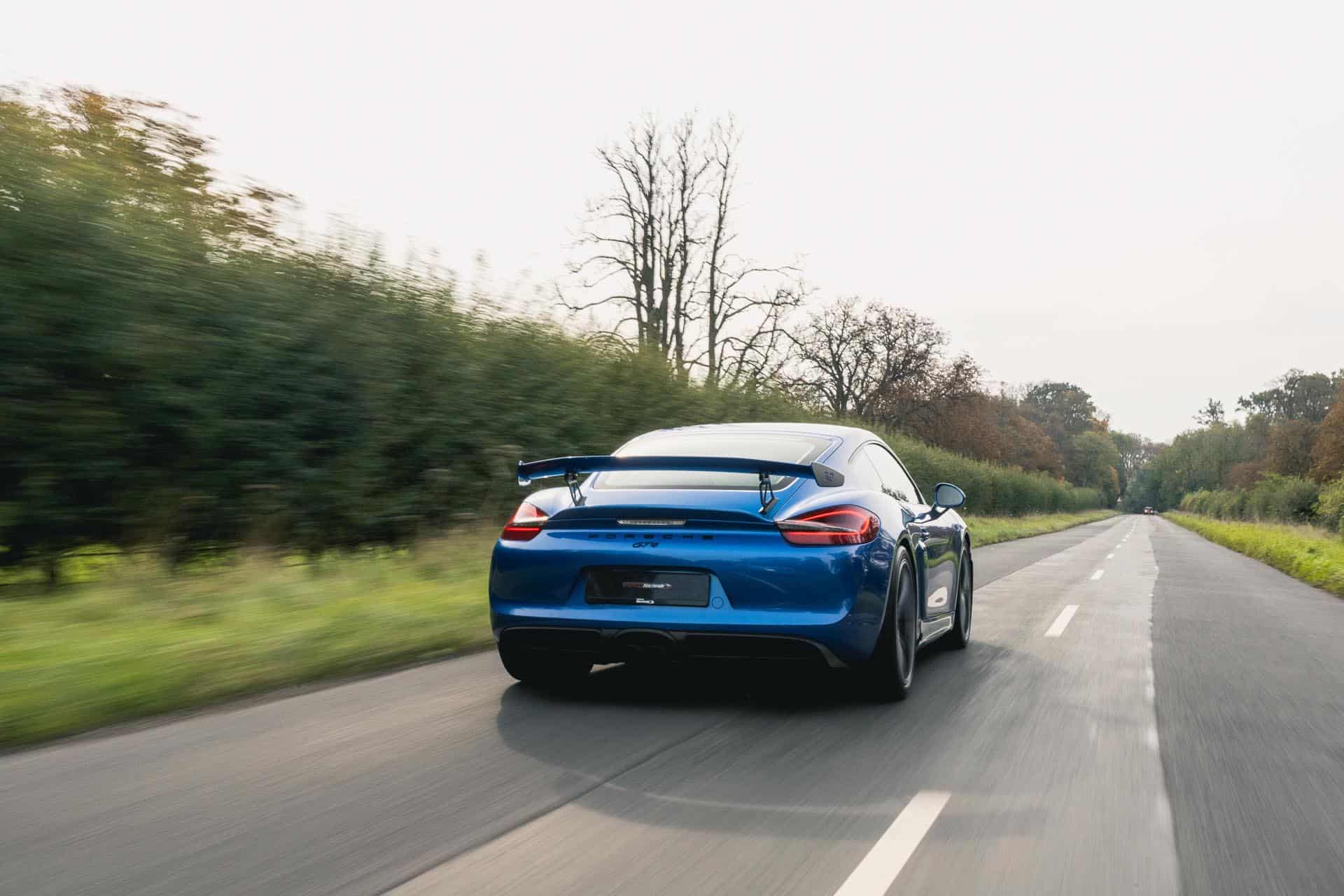 MANTHEY TIE ROD SET
Once you have adjusted your GT4 to the maximum that the standard Porsche hardware allows, the limitation is the amount of camber that you can achieve on standard hardware at the wheels. The harder the car corners the more negative camber is required to ensure the tyre stays flat to give the greatest contact patch on the road or track surface. The maximum camber is limited by the length of the factory tie rod and the rear is very limited in standard set up. Manthey offer an extended tie rod providing more strength and further adjustment for maximum performance.
Prices from £757 inc VAT (parts only)
---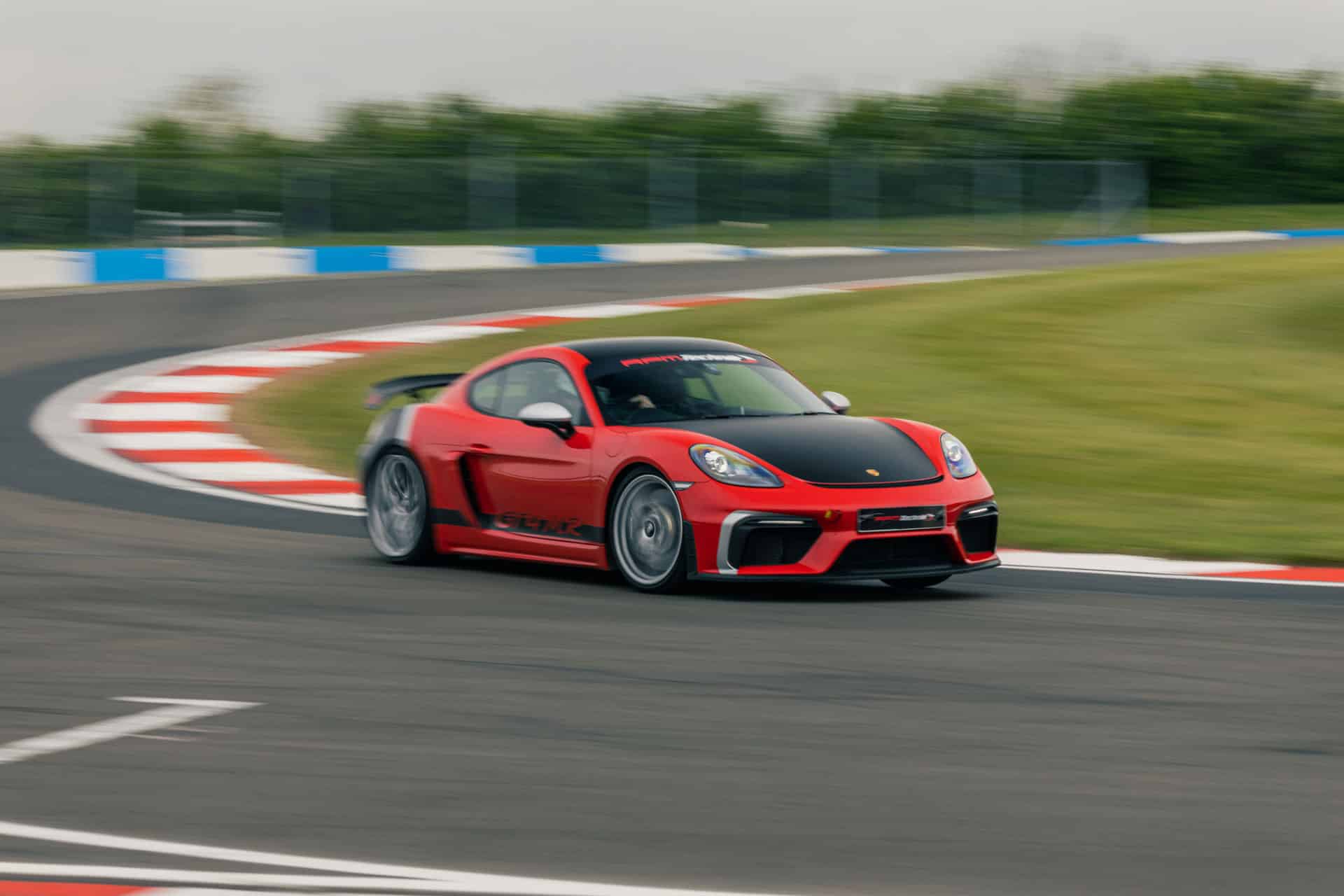 MANTHEY TRACK UPGRADE KIT
A further upgrade to your standard Porsche suspension is possible, giving your GT4 better handling and making it more competitive at the circuit. The Manthey track upgrade kit for GT4 includes:
– Rear tie rods as above
– Front top mounts to allow for greater front camber adjustment
– Canards for the rear bumper. These are designed to tidy up the air flow past the rear bumper.
– Camber shims. These allow the standard suspension to run greater negative camber, which will allow for better grip whilst being driven at the limit.
Prices from £1,485 inc VAT (parts only)
---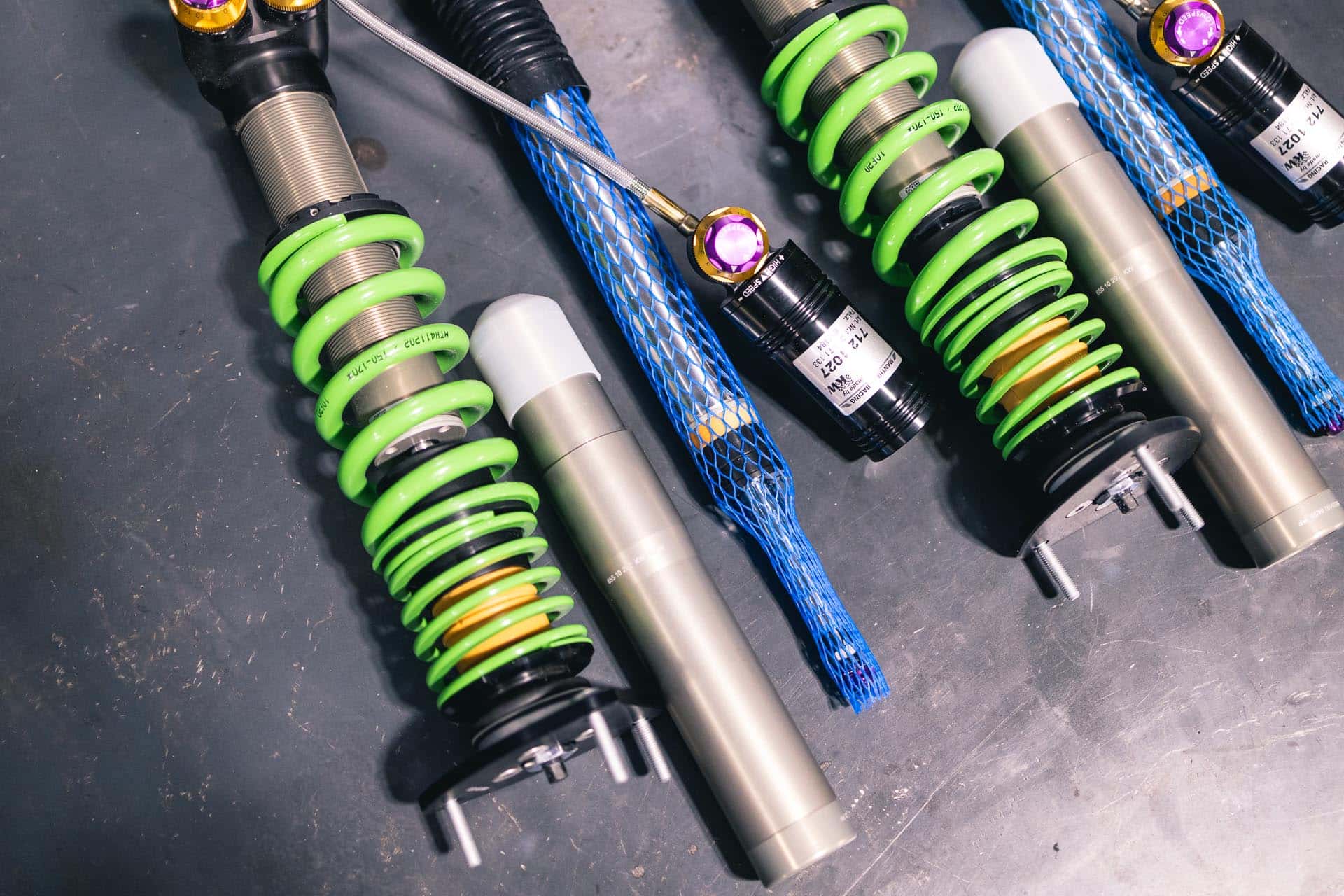 MANTHEY COILOVERS
Changing your standard Porsche suspension to Manthey '3 way adjustable' coilovers allows the GT4 chassis to be further exploited. The Manthey coilovers provide the tyre a stiffer platform and provide the driver with more precision at the limit with far less body roll. The Manthey coilovers allow for further adjustment over the standard equipment, specifically to bump and rebound (along with ride height) whilst also deleting the factory PASM setup. Having a passive setup with a high level of adjustment means that regardless of your preferred style of driving, or type of driving application, there will always be a setup to match these preferences.
Prices from £6,844 inc VAT (parts only)
---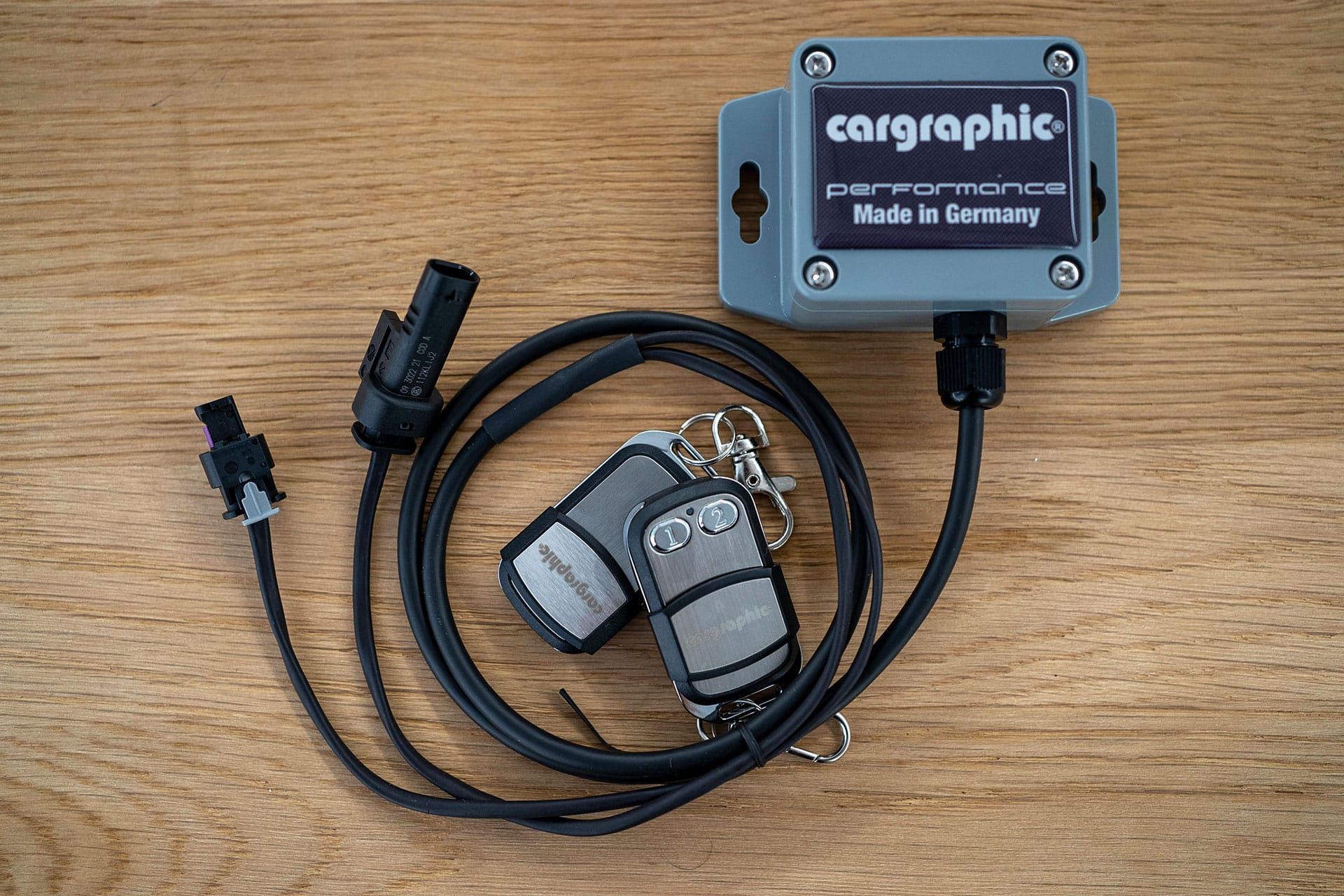 CARGRAPHIC VALVE CONTROLLER (718 ONLY)
The Porsche standard sports exhaust is controlled via butterfly valves in the exhaust system, they open and close to provide more or less noise. Due to European 'drive by' noise legislation, even when you press the button to activate your sports exhausts, the valves close between around 2,000 rpm and 4,000 rpm, resulting in some strange loud/quiet modulation of sound. This system controller overrides the factory setting by allowing the valves to remain fully open when the exhaust is activated, or indeed fully closed when not. You can also run in the factory sport option too, so all the bases are covered.
Prices from £316.80 inc VAT (parts only)
---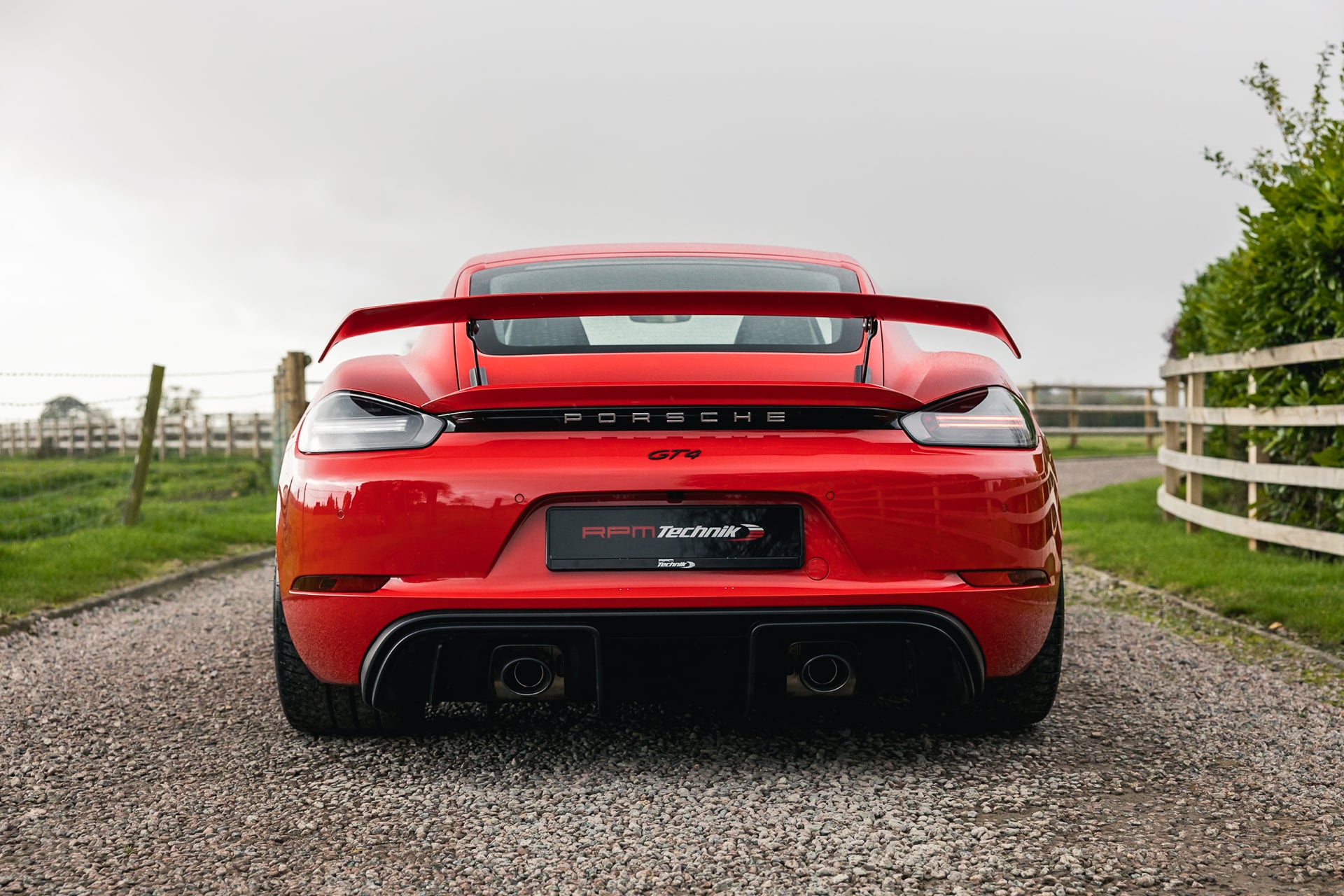 EXHAUST
The variety of exhaust upgrades available for the GT4 are plentiful. The exhaust is made up of manifolds which attach to the cylinder heads and have the catalytic converters built in, link pipes which contain the OPF (particulate filter) and the back box. We can offer upgrades to all sections resulting in better sound, improved exhaust gas flow, reduced weight and if desired the removal of OPF filters. We are not tied to one supplier and good systems are available from REEF, BCF, Akrapovic and JCR to name a few popular options.
Prices from £3,850 inc VAT (parts only)
PERFORMANCE TYRE CHOICES (CUP2 AND CUP2R)
Prices from £1,572 inc VAT (fitted)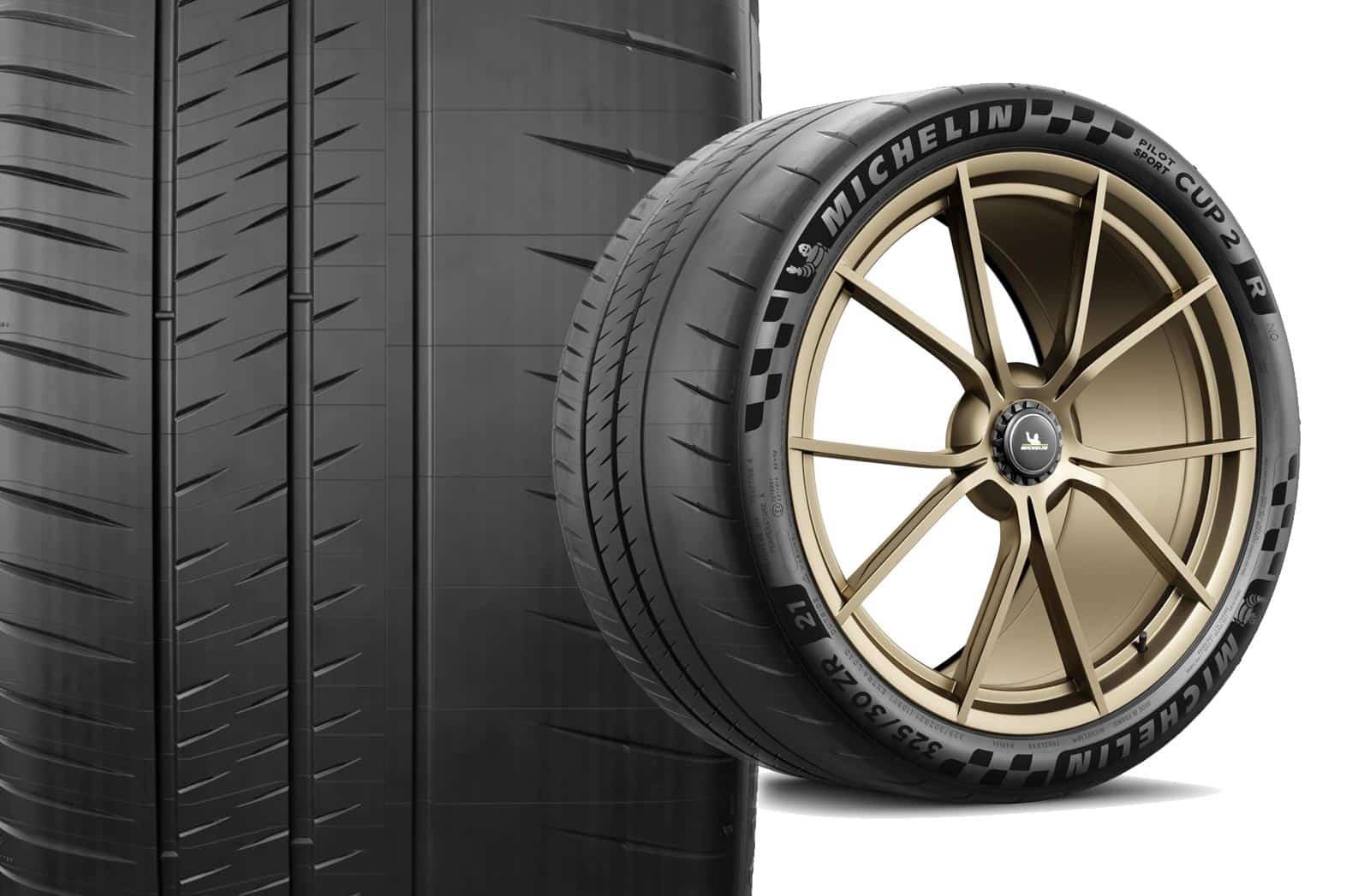 Michelin Pilot Sport Cup2R
The Michelin Pilot Sport Cup2 R is an ultra-high performance semi-slick track and road tyre. They have been specifically designed to provide extreme lateral dry grip with the aim of providing you with the best lap times possible. The Cup2R contains Michelins exclusive 'Motorsport tyre' compound in conjunction with a 10% larger contact patch over a Cup2 tyre, to deliver ultra-high grip levels when you most need it. Stiffened tyre shoulders along with 'Dynamic response technology' allows the tyre to offer enhanced control whilst at the limit by giving the driver greater precision over the cars trajectory.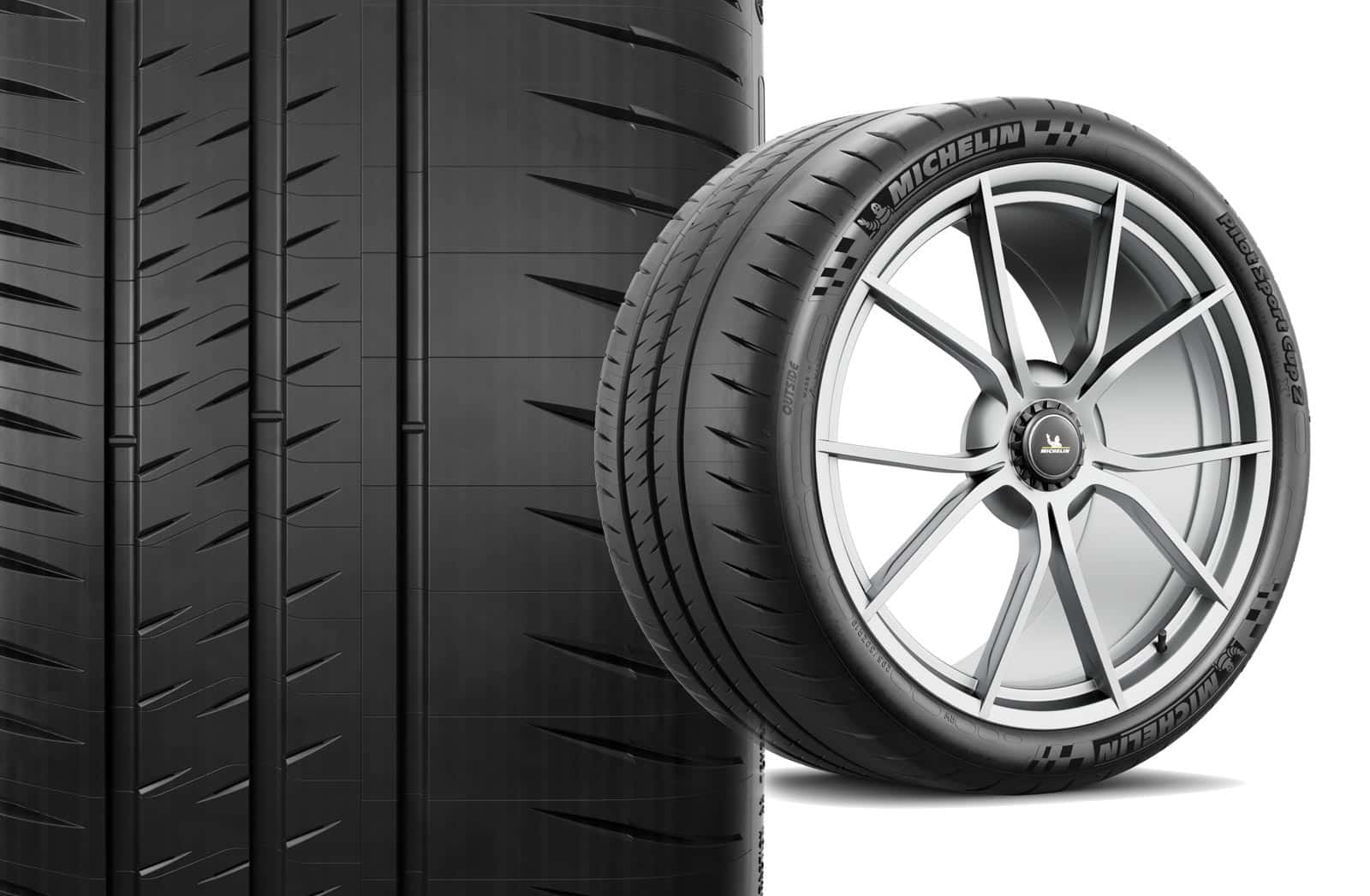 Michelin Pilot Sport Cup2
The Michelin Pilot Sport Cup2 is a high-performance road and track tyre, able to provide high levels of precision and outright grip. The Cup2 has been designed for longevity and track endurance allowing greater consistency of lap times. This multiple compound tyre uses two different rubbers in the tread. A 'high molecular chain' for cornering grip and a more rigid compound for steering control and wet grip. The abrasion resistant compound also has reinforced tyre shoulders to enhance the tyre life at the limit.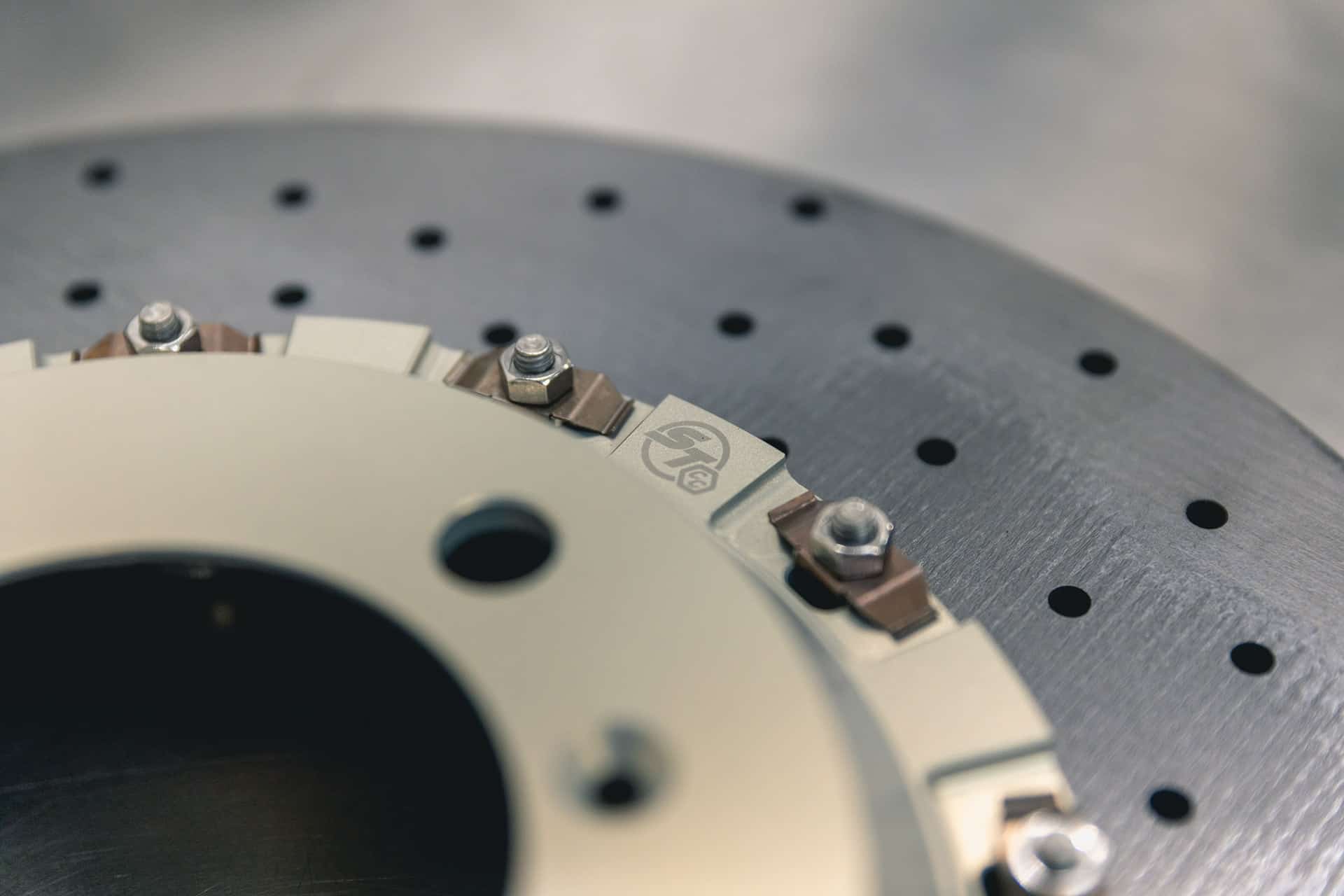 SURFACE TRANSFORMS CERAMIC BRAKES
Surface Transforms have been offering an alternative to Porsche Carbon Ceramic Brakes (PCCBs) for nearly a decade. Essentially the benefits of ST ceramics are they are lighter, more durable, more resilient to heat and offer a better outright pedal feel at the limit. As well as allowing you to drive the car harder and more precisely, the other benefit to the patented 'layer' construction is that the discs can be 'refaced' two times, unlike PCCBs that can't be refinished. They are also usefully half the price of replacement PCCBs. A lot of people who regularly use their cars on track will buy STs and remove factory PCCBs to keep and replace when car is ready to sell. The STs can be kept and used again.
Prices from £13,000 inc VAT including pads (fitted)
---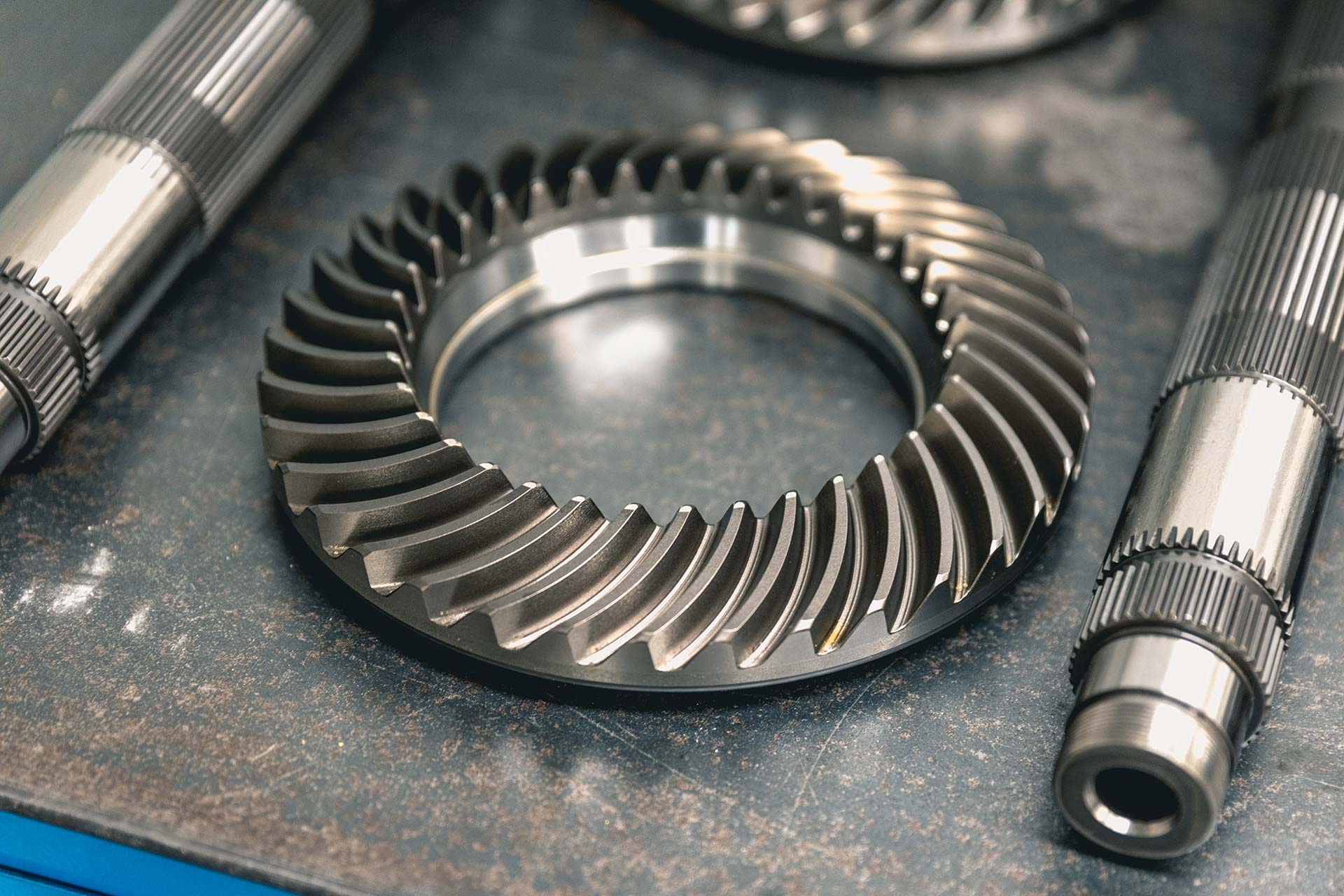 LOW RATIO CROWNWHEEL AND PINION
The GT4 long gearing has been well documented in many articles. Stringent noise and emissions testing were reflected in the decision to run these gear ratios. The driver involvement and sensation of manual shifting up and down through the box is impacted from these long ratios (82mph is possible without getting out of second gear!). Our solution was to design a lower ratio crownwheel and pinion that lowers speeds in all six ratios by 14%. We offer a replacement sixth gear for European applications and have a UK sixth gear in design and manufacture. We have fitted this on all GT products from 996 to current, allowing us to be confident in the durability of the components. Although the power of the engine is unchanged, the acceleration through the gear is quicker and it makes a dramatic difference to the thrill of driving these GT4's. The 718 conversion requires a coding change to resolve conflict with DME error checking functions.
Prices from £3,500 inc VAT (parts) or £6,300 inc VAT (fitted)
---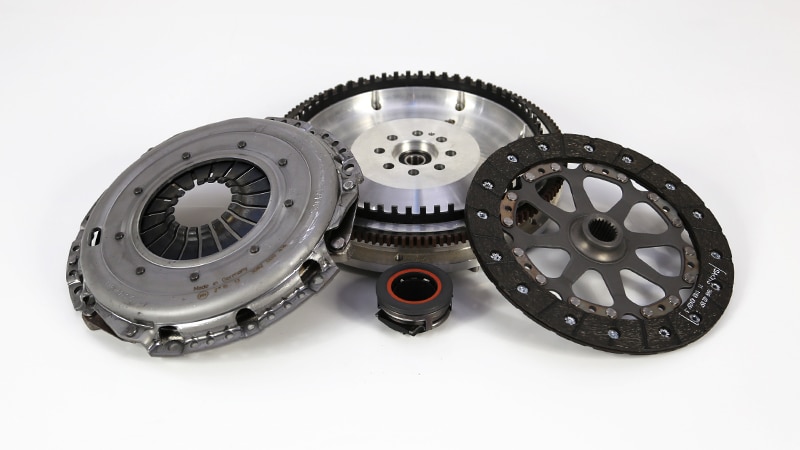 LIGHTWEIGHT FLYWHEEL AND CLUTCH ASSEMBLIES
Removing the dual mass flywheel from the gearbox and replacing it with a single mass item has some fundamental benefits. They are approximately half the weight (saving circa 6kg of weight), this reduced weight in the drivetrain means less of the power from the engine is lost before driving the rear wheels. From a driver's point of view the engine feels much more free revving and responds to throttle inputs much more quickly. Magic for heel and toe downshifts. There will be a little more noise and vibration through the car, however for those used to driving some of the motorsport GT cars, this can be considered a positive too. No additional labour if fitted when the Crownwheel and Pinion are changed.
Prices from £1,500 inc VAT (parts only)
---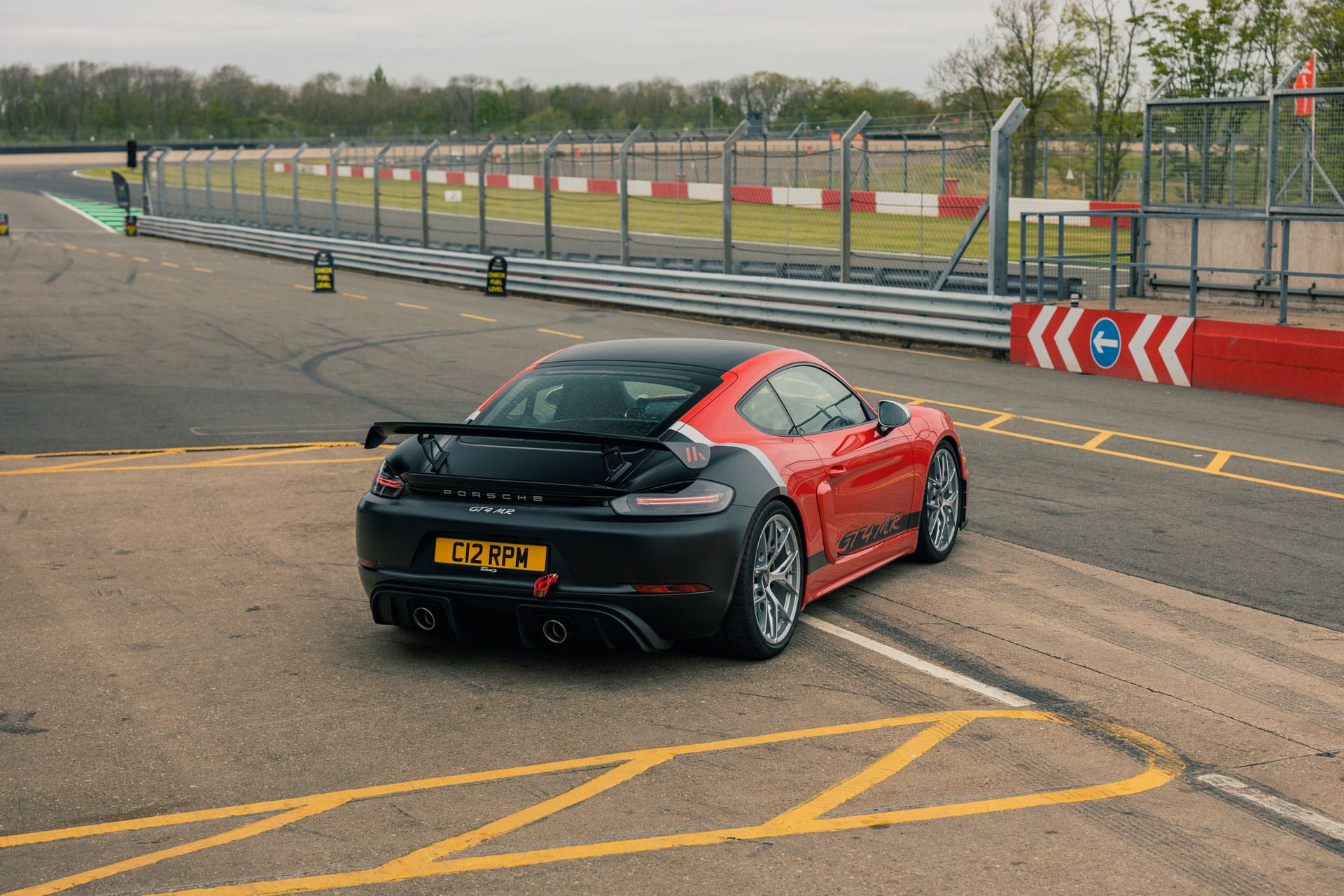 FULL MANTHEY MR CONVERSION
Manthey have provided MR conversions for the 981 and 718 GT4 platforms. These carefully chosen upgrades maximise the GT4's capability and whilst sometimes subtle to the untrained eye, these have been developed and extensively tested in order to retain the useable road nature of the GT4 chassis whilst allowing the driver to push even harder on circuit. The upgrades to the chassis allow the car to be more stable at higher speeds and consistent in the extreme, whilst the aero and braking improvements give extra confidence whilst chasing a lap time at your favourite circuit. These packages include lightweight wheel options.
Prices from:
£15,455 inc VAT without wheels, excluding fitting
£23,700 inc VAT with wheels, excluding fitting
---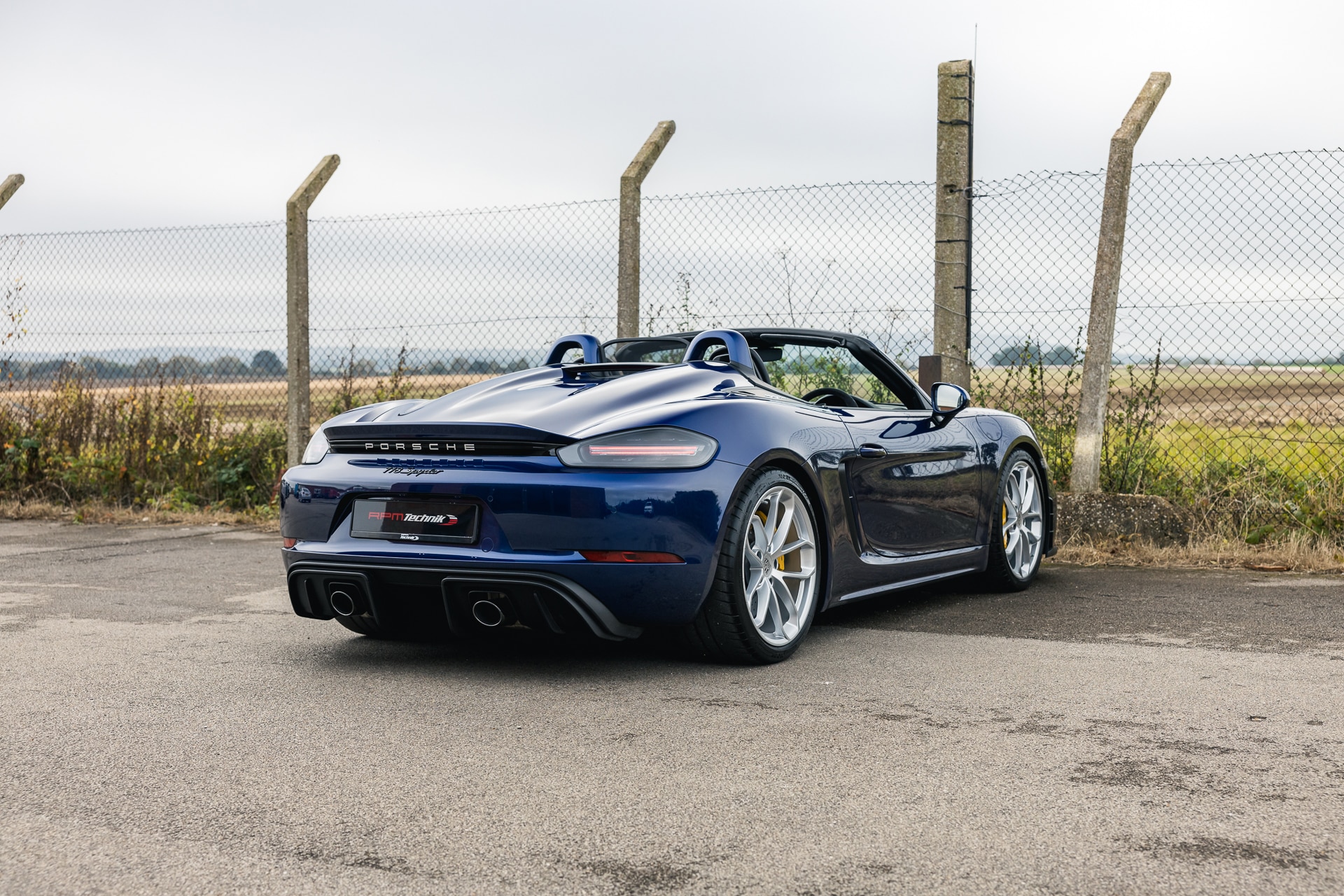 SPYDER AND OTHER MODELS
Many of these options are also upgrades for the Boxster Spyder and in some cases the Cayman S models too. If you are interested in further information on what will fit your Spyder or non-GT model, please call us to discuss 01296 663824.
Prices may vary based on exchange rates and are correct as of May 2022.
SPEAK WITH OUR MANTHEY EXPERTS TODAY
To discuss your MR project, give Ollie a call on +44 (0)1296 663 824 or send us an enquiry online