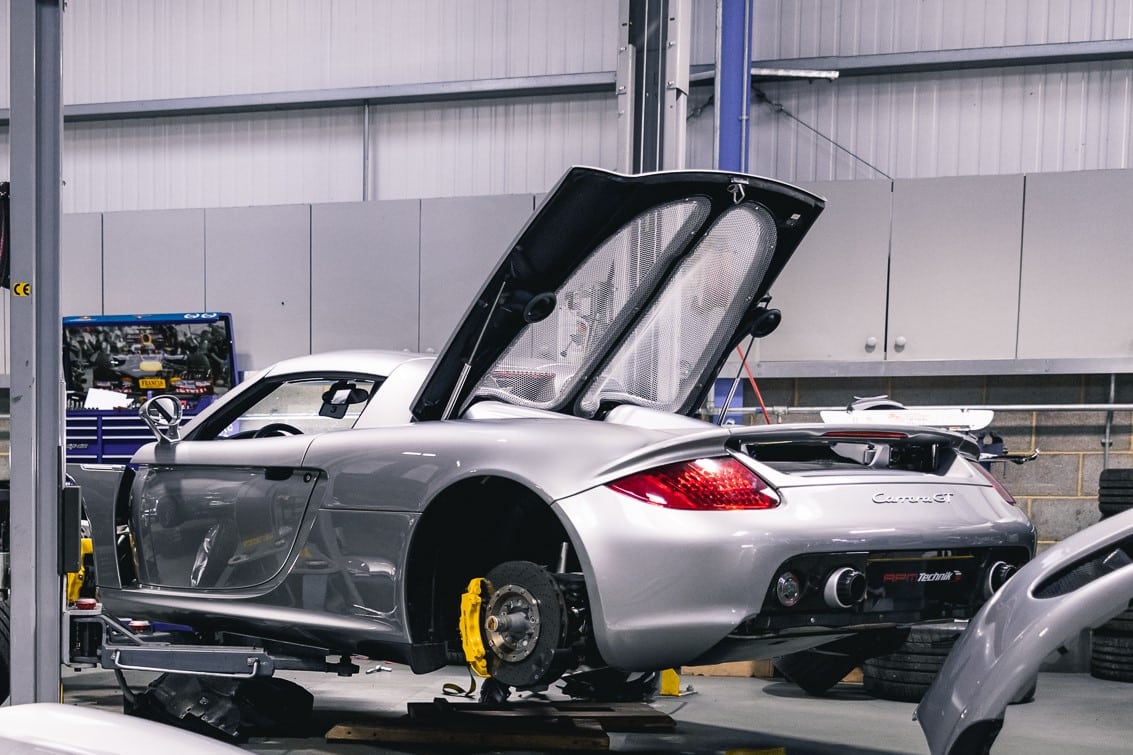 Suspension Upgrade and Lift Kit for Carrera GT
Over the last two decades working on Porsche models of all shapes and sizes, we have always provided the best engineering solutions for our clients. This solution is irrespective of the age or model of Porsche they own. It is also tailored to each client's personal requirements as we always make a point of understanding why they are looking to upgrade or modify a car so we can make sure we give them the most appropriate solution.
As the years have ticked by, our fascination with the Carrera GT (980 to give it its Porsche internal model codename) has evolved into a commercial part of the business. The first few 980's we had into the workshops were for simple tasks like MOTs, tyres, consumables and batteries. We also undertook several conversions to allow imported CGTs to pass UK legislation for road registration. This allowed us to build our knowledge base of how they were put together, their idiosyncrasies and most interestingly, start to build a picture of the varying quality of cars in the UK marketplace.
Undertaking a full pre-sale (or sometimes post-sale!) inspection is no mean feat, just getting them onto a ramp and secure requires specialist equipment due their carbon structures. In 2019 we sold one of the original 49 UK examples and continue to maintain one of five very special Carrera GTs coach built by Zagato. So, when in early 2021 we were approached to carry out a full inspection for a client who had plans to use his 980 as much as possible in 2021, as ever we were thrilled. We were even more intrigued when we learnt of his desire to make it more useable, and in particular provide the best solution to manage their exceptionally low ride height.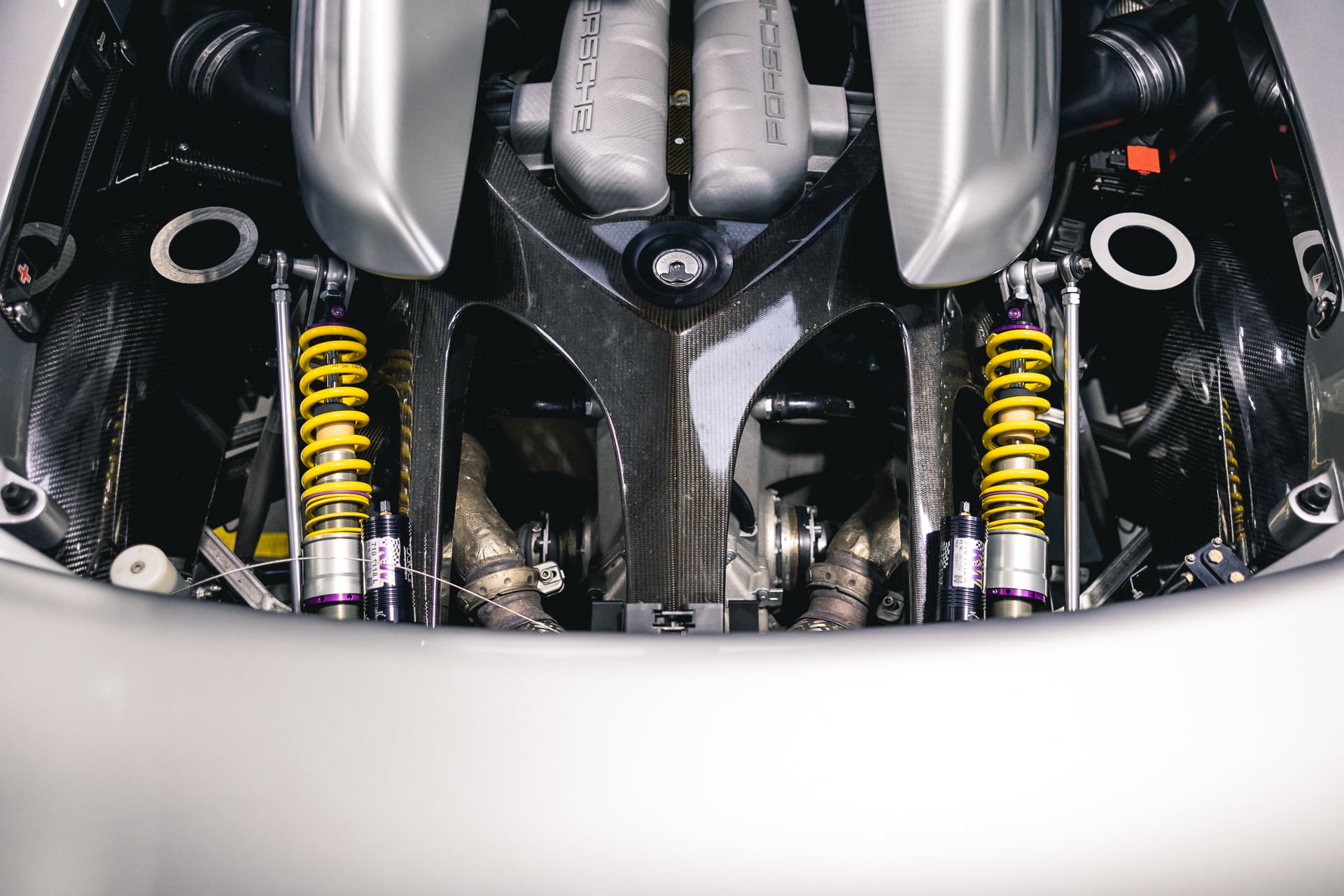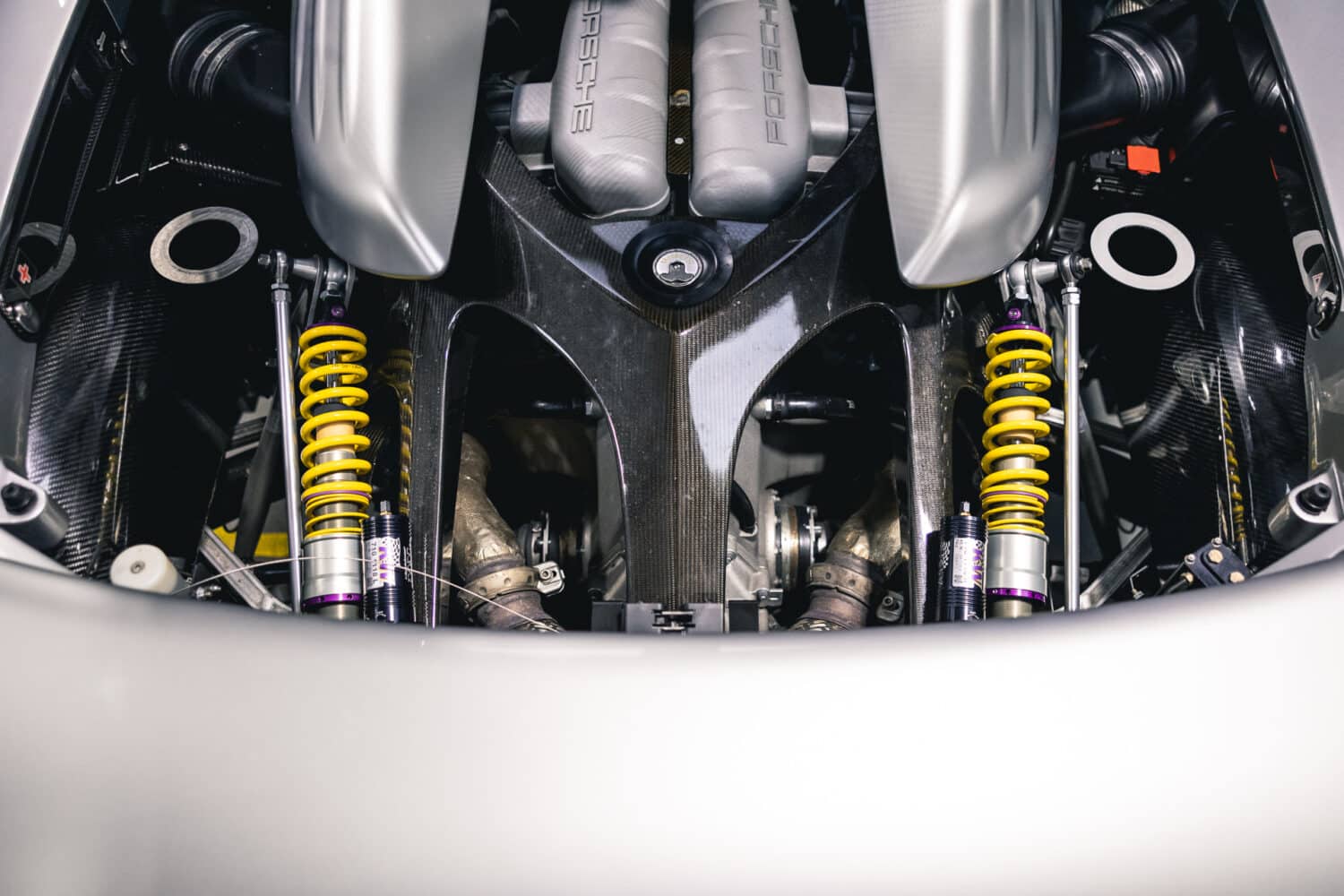 Once his purchase was complete, we supplied him with a made-to-order KW HLS4 suspension kit. So called, as it allows all four axles to be lifted. This is made possible by a hydraulic pump that controls a piston attached to the dampers, via a discreetly hidden button in the cabin. The hydraulic cylinder unit is located on the coilover body between the spring perch and spring. This allows for a mechanical advantage as there is no compression of the extended cylinder unit resulting in no unwanted additional suspension movement whilst driving. The pump lifts the car within a matter of seconds and allows the car to travel at up to 50mph before automatically dropping the car back to down to its correct ride height. When activated, the front is lifted by 40mm and the rear by 10mm.
The fitment of this system provides CGT owners with a second benefit too, and it is a notable improvement in chassis dynamics and control. The CGTs were notorious back in 2004 for being a handful on the limit. This was largely down to the cars low weight and high power being too much for the tyre technology of the era, along with a 'relaxed' traction control system setup by Porsche.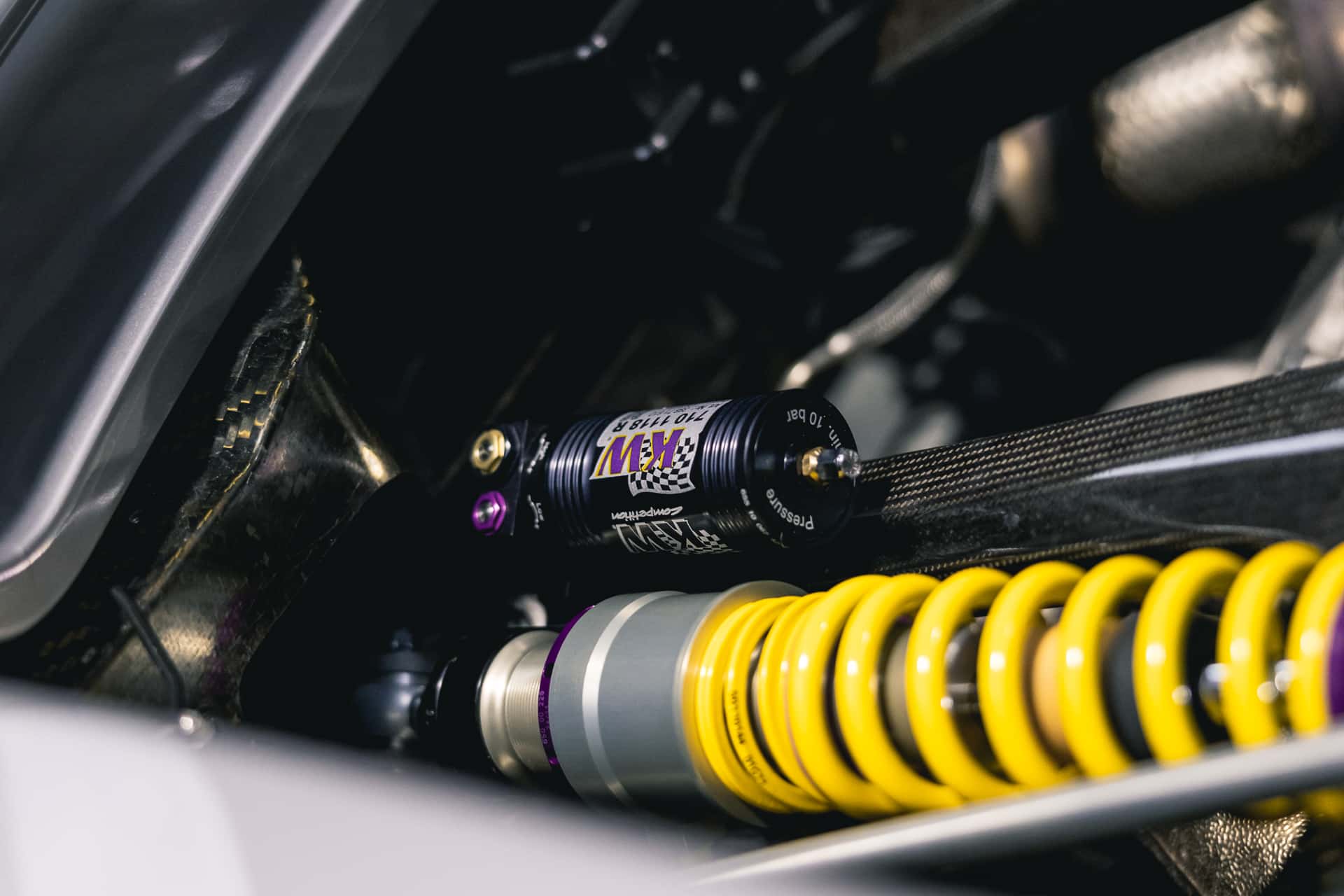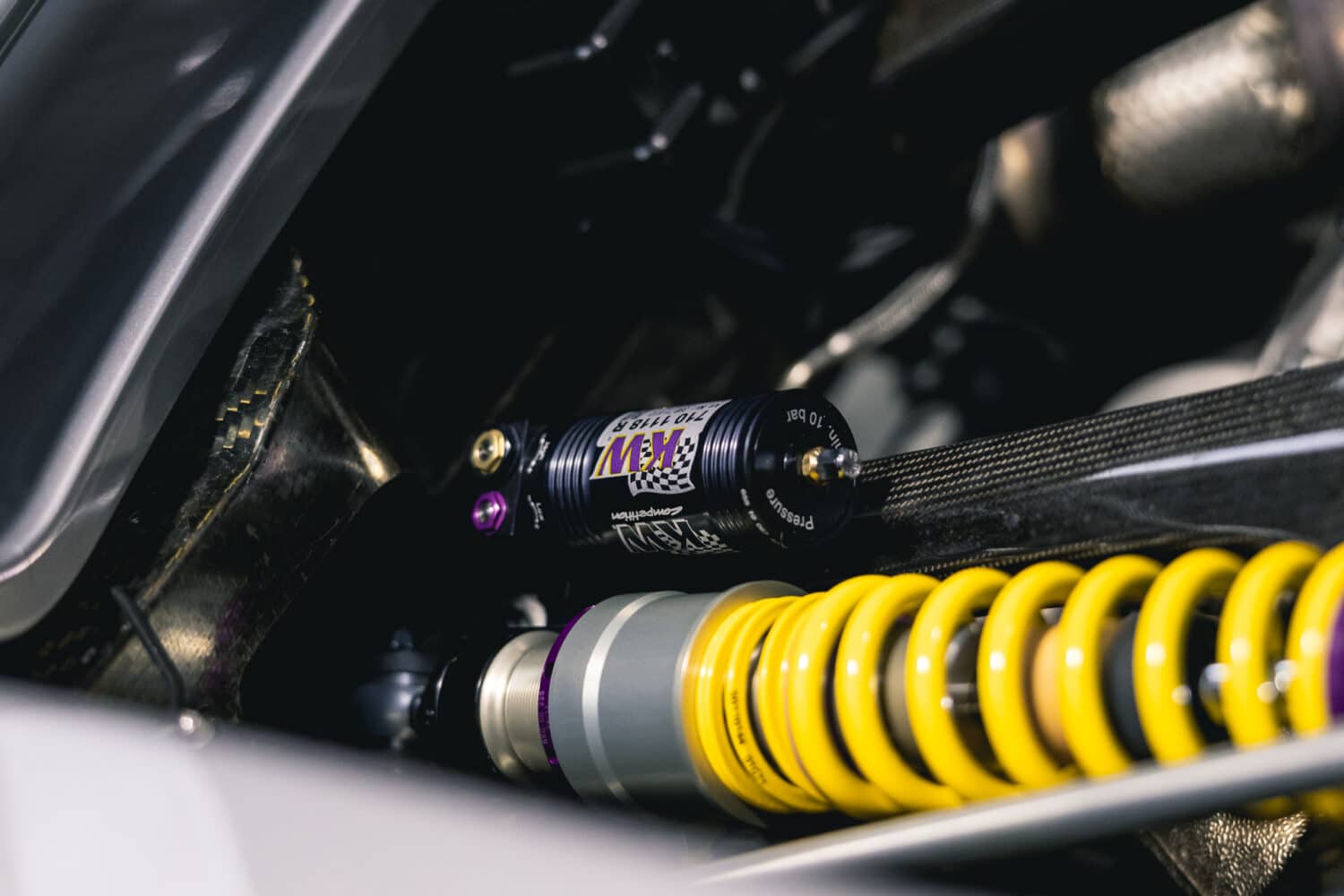 Seventeen years later, whilst 612bhp is still quite a significant power statistic, many cars now offer this, and as such, tyre manufacturers have vastly improved their offerings, our preference being the Michelin Cup2 which has happily tamed the CGT's handling massively. That improvement with tyre performance now asks more of the original fitment Sachs suspension system too. By fitting the KW coilovers you benefit from a more current suspension technology and we can finely tune the handling to suit the driver, allowing them to enjoy the car even further. The original equipment can be retained and kept with the car to ensure for future resale values are preserved.
A further benefit of running the lift kit, is it protects the very expensive carbon fibre undertrays and even the oil sump. The decision on whether to take the car out or not can be influenced by the risk of damaging an undertray on driveway ramps and speed bumps. With a cool £62,000+VAT required to replace all three undertrays it is worth keeping these safe and in good order!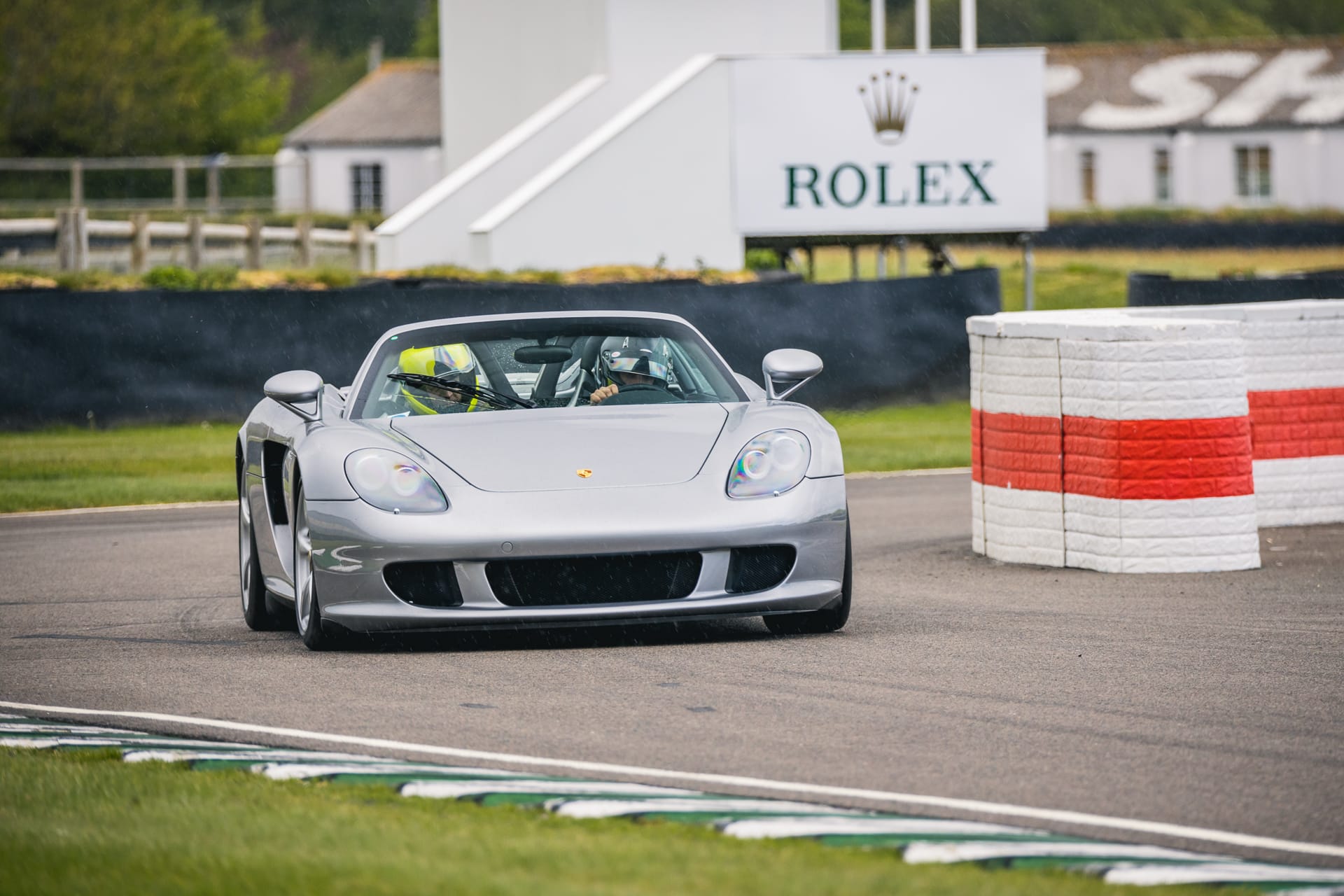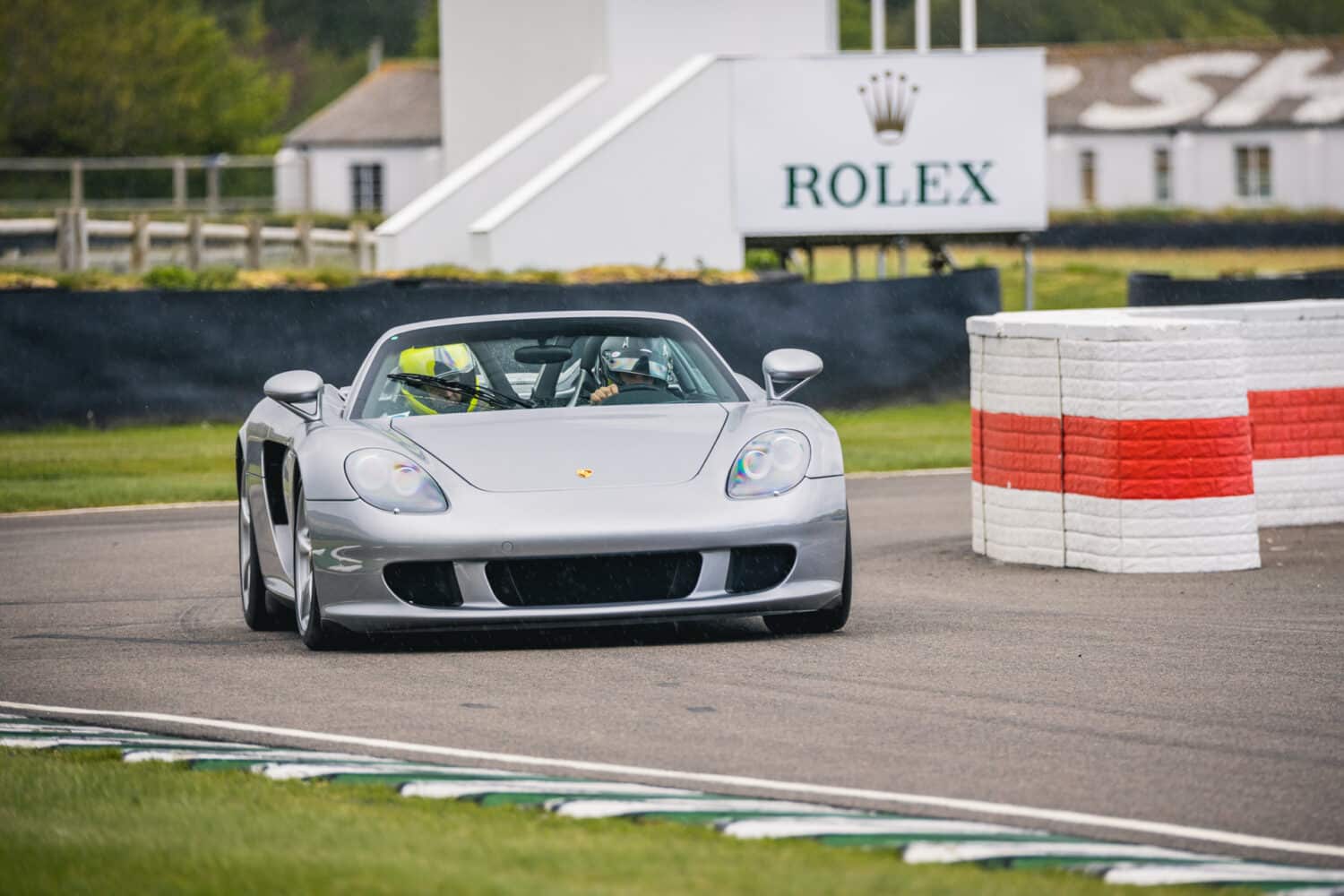 As a natural evolution of our love affair with the Carrera GT, we are now able to offer owners the full suite of Carrera GT servicing in-house. We can cover everything from diagnosis and suspension setup all the way through to the full 'engine out' service that is due every four years. We have in house expertise who have completed well over 100 major CGT engine-out services. Needless to say, whilst our love affair continues, our excitement of caring for them and ensuring the cars are kept in the best condition continues unabated.
As of August 2022, we have completed the installation of four KW lift kits to CGT models with another three more coming in. It is great to see these cars out and about making full benefit of this marvellous upgrade.
SPEAK WITH OUR UPGRADES TEAM TODAY
To discuss your suspension upgrade, please contact our upgrades team on +44 (0)1296 663 824 or send us an enquiry online.